Thirty-two years ago when Bob Schumm started his downtown Lawrence restaurant business, there was a simple reality he and almost every other retailer in town had to accept.
"If you didn't have money in the bank in May, you wouldn't make it until August," said Schumm, who owns Buffalo Bob's Smokehouse and Mass. Street Deli. "That's the way it worked back then. June and July were just awful times to do business in this town."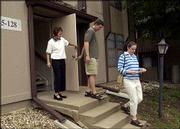 The reason was simple no Kansas University students. Schumm and others remember how Kansas University's graduation ceremonies served as a symbolic starter pistol for students to begin rushing out of town.
However, times have changed.
"July and August are my two best months of the year now, and believe me, I never thought that would be the case," Schumm said. "It will be slow from this coming Tuesday until summer school starts in about two to three weeks, but then it is pretty much back to business as usual. We just have a different town than we used to."
Sticking around
The summer traffic is noticeably different than it was 10 years ago, said Steve Gaudreau, owner of Quinton's Bar & Deli.
"The best way to measure it is the traffic," Gaudreau said. "I remember when I opened here in 1991 how much less the traffic was during the summer. It was kind of nice to drive around town in the summer, but it's not so much so anymore."
Traffic isn't the only way Gaudreau measures the differences, though. He keeps a close eye on the business' books, and he said his summer business was about 25 percent better today than it was in the early '90s.
He assumes it's simply because more students have decided to stick around in the summer rather than return to their hometowns.
"I'm not sure I know why they are doing that, but I suspect that it may be with apartment rents getting higher and higher, students figure if they are going to have to pay that much to live here, they might as well live here full time," Gaudreau said.
Brooke Myers, general manager at the Trailridge Apartment complex, agrees that apartment leases probably have something to do with a student's decision to stay. It is difficult to find a nine-month lease in Lawrence.
"They're paying for it whether they live in it or not," Myers said.
Lawrence also may have better job opportunities than their hometowns.
Jaymie Hoffman, a leasing consultant with Colony Woods Apartments, said she thought that was why many of the residents at her complex stayed in town during the summer.
"There seems to be plenty of summer jobs for college kids in this town," said Hoffman, who added that Colony Woods is always 100 percent rented during the summer. "I think a lot of them think they'll have more luck finding a better job here than wherever they came from."
But Hoffman admits there may be an even more powerful reason than jobs or money.
"Probably the No. 1 thing I hear them say is that they just don't want to stay at their parents' house," Hoffman said. "They are used to the freedom and independence."
Steffanie Clifton, an assistant manager at Hastings Books Music & Video, said she thought students had more housing options than before. Clifton said students tended to live off campus instead of in the dorms.
"Being a former student myself and now managing quite a few students who work here at the store, the biggest difference I see is lots and lots of students don't live on campus anymore," said Clifton, who said Hastings didn't have a significant drop in business during the summer. "I don't know when that trend started, but I think it has really changed things."
Indeed, most students don't live on campus. According to university statistics, roughly 80 percent of all students live off campus. Todd Cohen, of KU's Office of University Relations, said the percentage of students living on campus has declined. He said in 1968, the latest year the university could find statistics for, 40 percent of students lived off campus.
But Steve McCoy, owner of the Paradise Cafe, said he thought it might be another change on campus that led to busier summers summer school.
"I think summer school is a huge deal anymore," McCoy said. "I think more students are taking it to get done on time."
Summer school numbers have been increasing. In 2000, 8,877 KU students were enrolled in summer school compared to 5,871 in 1970, according to statistics from KU.
"I'm not sure that's why things are different, but I'm glad they are, because when I started this business about 16 years ago, you could play a softball game on Mass. Street it was so dead. But not anymore."
More than students
But don't give all the credit to university students. Schumm said the community had grown beyond the point of being totally reliant on students.
"Our town has changed dramatically to what I suggest is a town much more attractive to tourists," Schumm said. "I ask a lot of customers where they're from, especially during the summer, and they say they were just driving down the turnpike and decided to see what Lawrence is about.
"They have heard that Lawrence is a cool place so they come by for the day. I'm not sure that happened a whole lot years ago."
Schumm also credits KU for becoming a bigger overall draw for the community.
"KU generates a lot of business, in addition to the students, just by being an active university," Schumm said. "Years ago, they didn't used to have orientation sessions for the students over the summer. Now they do and a lot of times the students bring their parents and they end up coming downtown to shop or eat.
"And my sense is that KU's Continuing Education Department does a lot more conventions or seminars in town than they used to, and those people usually are shoppers while they are here.
"I think the town is just different than it was even 10 years ago. I'm not sure I know all the reasons why, but our summer months are good solid months year after year, and that's great."
Copyright 2018 The Lawrence Journal-World. All rights reserved. This material may not be published, broadcast, rewritten or redistributed. We strive to uphold our values for every story published.