Maple Syrup and Apple Braised Pork With Horseradish Mash uses a stylish combination of ingredients to dress up meat and potatoes, while staying within low-fat bounds.
The recipe comes in good company, among about 100 in "Fresh and Healthy" (Ten Speed Press, 2001, $24.95, paperback) by Sally James. The cookbook was the winner of the 2001 International Association of Culinary Professionals Cookbook Award, in the health and special diet category.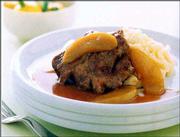 The large-format book, across whose cover runs the subtitle, "100 fabulous heart healthy recipes," looks good enough to eat, with plenty of color photos.
However, James, an Australian cookbook author, chef and television presenter, has enough impressive credentials in cooking and nutrition to make the book's contents highly usable, as well as mouthwatering.
She wrote the book in collaboration with the Victor Chang Cardiac Research Institute of Australia. There are some general guidelines, then you go straight into "nibbles and starters," such as vegetable-crusted honey prawns, and pumpkin and macadamia nut soup. Eat your way through main courses to desserts, or just head directly for, say, the sauterne cake with berries and creme anglaise.
The recipes share the refreshing originality and sprightly flavors of the best contemporary Australian cuisine, with its cosmopolitan blend of influences from East and West.
Maple Syrup and Apple Braised Pork With Horseradish Mash


4 4-ounce pork fillets
2 tablespoons Dijon mustard
1 tablespoon olive oil
1 cup apple juice
1/3 cup maple syrup
1 tablespoon lemon juice
1 large green apple, peeled and cut into quarters, and thinly sliced
3 large potatoes, peeled and chopped
1/4 cup well-shaken buttermilk or low-fat milk
1 tablespoon horseradish
Freshly ground pepper
Brush the pork fillets with Dijon mustard. Heat the oil in a large, heavy-bottomed pan and saute the fillets on high heat for 2 minutes on each side or until browned and crisp.
Combine the apple juice, maple syrup and lemon juice, and add to the pan. Reduce heat, cover and simmer over low heat for 25 to 30 minutes or until pork is tender, turning occasionally and spooning over sauce. Add the apple for the last 10 minutes of cooking time.
Meanwhile, boil the potatoes until tender then mash with the milk, horseradish and pepper to taste. Keep warm.
Remove the pork from the pan, cover with foil and keep warm. Boil the remaining liquid until thick and syrupy. Serve the pork on the mashed potatoes, and spoon the sauce over.
Makes 4 servings.
Nutrition information per serving: 435 cal., 9.5 g total fat (2.2 g saturated fat), 305 mg sodium.
Copyright 2018 The Associated Press. All rights reserved. This material may not be published, broadcast, rewritten or redistributed. We strive to uphold our values for every story published.