Once upon a time, a chivalrous man and a fair lady met by fate's hand, charmed one another and fell in love. They wed by the sun-flecked shores of a lake and lived happily ever after.
Actually, Lawrence residents Lisi Chance and James Conner met five years ago at a party, where she fell asleep and drooled on him. But the rest of the fairy tale played out almost the same and, on Saturday afternoon, in a picturesque meadow near Clinton Lake, Chance and Conner exchanged vows at a Renaissance-themed wedding fit for royalty.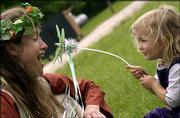 The automobiles in the parking lot seemed out of place against the pointed white tents, banners with heraldic devices, women in flowing velvet and satin gowns and men in tunics and cloaks, weapons in scabbards at their hips.
"It seems like a more romantic way to have a wedding," said Chance, who made her wedding gown and the outfits worn by Conner and the 10-member wedding party. "It's a lot like a fairy tale."
The inspiration for the unique wedding started with a 700-year-old dress. Chance, now 27, spotted the 14th-century gown in high school among the pages of a costuming book. Last April, when Conner proposed, Chance remembered the dress and knew instantly that she wanted to get married in true Renaissance style.
"The tales of King Arthur and the Knights of the Round Table and Robin Hood I loved those tales from when I was little," Chance said. "I like the whole chivalry idea, but I don't really like the whole women were property idea."
That's one old-world sensibility this 21st-century couple plans to leave behind. But Chance and Conner did incorporate twists on a few traditions. Instead of forking over a dowry of money and goods to the groom, Chance's parents gave Conner a bag of chocolate coins. Conner, 24, offered the same confectionery token as his bride prize.
And no Renaissance wedding would be complete without a feast. Chance had been toiling over the stove since last Sunday, preparing the seven-course meal complete with bread and cheese, roasted venison and a fruit-and-nut-filled sleeping dragon sculpted entirely out of marzipan with which wedding guests gorged themselves while listening to Renaissance and medieval music.
Portraying men and women from a different era isn't entirely new to Chance or Conner. When Chance attended the University of Missouri-Rolla, she belonged to the Society for Creative Anachronism, an international organization of people who research and recreate pre-17th-century European history. Conner spends hours running and playing role-playing games.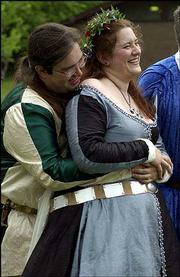 But Conner's aunt, Sally Cross of Lawrence, said that, like most of the guests, she'd never been to a wedding in costume before.
"This is totally original," she said. "I thought it was very neat."
The person who first introduced Chance and Conner Mark Jameson of Lawrence also married them on Saturday. Jameson became an ordained minister online through Universal Life Church so he could perform his friends' nuptials.
"I was there at the start of their dating," he said, "and I'm here at the end."
Copyright 2018 The Lawrence Journal-World. All rights reserved. This material may not be published, broadcast, rewritten or redistributed. We strive to uphold our values for every story published.