Kansas University's baseball team needed to win its final six games to have any chance of qualifying for the Big 12 tournament for the first time.
KU looked to have a good start Friday night, leading Oklahoma, 3-2, with two outs in the top of the sixth before rain and lightning caused the suspension of the game at Hoglund Ballpark.
Video highlights: click for video of the game.
On Saturday, the Jayhawks (22-25 overall, 5-17 Big 12) ran into trouble while playing the remainder of the game.
Jake Wright gave up six unanswered runs to the Sooners (30-21, 12-11), and an 8-3 loss eliminated Kansas from the postseason for the sixth straight year.
"I thought we needed to win all six," KU coach Bobby Randall said. "That hurts because that's been a goal forever. I think the disappointment I feel as a coach is that I wanted these guys to play in that tournament. These guys haven't experienced it and I guess I feel a sense of failure there, as a coach, because I wanted them to experience that."
The Jayhawks bounced back and took the regularly-scheduled game, 4-1.
"It's kind of different going out there and starting the game in the sixth inning," sophomore Ryan Baty said, "but I thought we hooked it up OK. Jake didn't have his stuff today but that's OK. We came back and got them in the second game."
Wright, pitching in relief of Friday's starter Jeff Davis, started the first game by striking out pinch-hitter Chris Jakubauskas with two Sooners on base to end the top of the sixth, but he walked three batters, allowed two hits and gave up three runs in the seventh and fell to 3-6.
"Jake came in and got the big strikeout and we go into the seventh and the roof caved in," Randall said. "He started walking people, and that's not Jake. That's the one thing I didn't expect to happen."
Oklahoma scored three more runs off Wright in the ninth inning on a homer off the scoreboard by Charlie Frasier, ruining Randall's plans to tag-team Wright and Tom Gorzelanny on the mound for game two.
"Our plan was to pitch Jake, finish that game, let him start the second game and then let Tommy finish it from about the third inning on," Randall said. "Jake just didn't come in and pitch well and that was a surprise."
Gorzelanny (3-6) did pitch well, though, holding the Sooners to five hits and an unearned run through six innings. Chris Smart, who retired the last batter in the first game, shutout the Sooners through the final three innings for his third save.
"I thought Tommy and Chris pitched great," Randall said. "Our defense was good and to come back from the disappointment of the first game I think was good, too."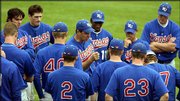 Kansas started the second game strong, scoring a run in the bottom of the first on a two-out single by Baty.
Oklahoma tied the game in the top of the fifth on a sacrifice fly by Jason Fransz, but Baty put the Jayhawks back in the lead in the bottom of the inning with his third hit of the day, a double that scored Casey Spanish from first. Baty then stole third and scored on a sacrifice fly by Ryan Klocksien.
"I saw some good pitches to hit, and they challenged me today," Baty said. "They came after me with fastballs and it went my way."
Baty's fifth-inning double was his 21st this season, tying him with Josh Igou (1993) for the most doubles by a sophomore Jayhawk.
"That's the kind of hitter I want to be," Baty said. "I'm not too big of a home run kind of guy but I like hitting the ball in the gaps and I like to get doubles. It really helps the ballclub out."
Spanish scored the final run for Kansas in the seventh on a single by Kevin Wheeler.
Even though the Jayhawks can't make the Big 12 Tournament, Randall knows his team won't give up in today's 1 p.m. series finale or next weekend's series against Kansas State.
"We want to win the series," Randall said, "and the other thing is one of our goals is to play hard until the last pitch and I think one of the things you saw was that there were some guys playing their butts off in that second game. Especially the way the first game went it would have been easy to say, 'Aw, crud, this just isn't our day.' Not one guy did that.
"We can still get above .500. There's always something to play for until the last pitch is thrown. When the last pitch is over you can let up and enjoy it."
Notes: Kansas athletics director Al Bohl attended the first few innings of the second game but left before it was finished KU football coach Mark Mangino also attended, along with his son, Tommy, a junior at Lawrence High.
Game 1
Oklahoma 8, Kansas 3
Oklahoma 001 010 303 8 14 3
Kansas 003 000 000 3 8 1
WBuddy Blair (4-0). LJake Wright (3-6).
2BOklahoma: Eddie Cornejo, Ryan Richardson; Kansas: Casey Spanish, Ryan Baty, Kevin Wheeler 2. 3BOklahoma: Cornejo, Jason Fransz. HROklahoma: Charlie Frasier.
Kansas highlightsWheeler, 2-for-4, 2 2B; Spanish, 1-for-4, 2B, 2 RBIs, run.
Game 2
Kansas 4, Oklahoma 1
Oklahoma 000 010 000 1 7 0
Kansas 100 020 10x 4 8 2
WTom Gorzelanny (3-6). LDavid Prucey (4-4). SChris Smart (3).
2BKansas: Baty 2.
Kansas highlightsBaty, 3-for-4, 2 2B, 2 RBIs, run, SB; Spanish, 1-for-3, 2 runs, SB.
Copyright 2018 The Lawrence Journal-World. All rights reserved. This material may not be published, broadcast, rewritten or redistributed. We strive to uphold our values for every story published.