Bethlehem, West Bank — Black-robed monks and local Christians on Saturday swept and scrubbed the Church of the Nativity, clearing out trash left behind by more than 200 Palestinians who holed up in the shrine during a 39-day standoff with Israeli soldiers.
The siege was lifted Friday after 13 militants were deported to Cyprus and 26 others were sent to the Gaza Strip. The end of the standoff lead to an Israeli troop withdrawal from Bethlehem, where residents had been confined to their homes under round-the-clock curfews since April 2.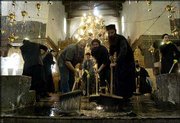 Latin Patriarch Michel Sabbah, the top Roman Catholic clergyman in the Holy Land, on Saturday visited the church marking the spot where tradition holds Jesus was born. In the grotto, a few steps down from the basilica, Sabbah knelt and kissed a silver star that Christians believe marks the birthplace.
Sabbah and clergymen from other denominations, including Greek Orthodox and Syrian, then held hands in the grotto and intoned the Lord's Prayer in Arabic, in a rare display of unity.
"On Friday, after the end of the siege, the basilica had reeked of urine. The stone floor was covered with dirty blankets and mattresses and large cooking pots. A stove and gas canisters for cooking stood to one side of the central aisle. Leftover food covered an altar in the Armenian section.
Those inside the church had complained the Israelis occasionally cut the water supply, and water was scarce during the siege. There were no toilets inside the basilica and to get to facilities elsewhere required crossing an open courtyard, with the risk of Israeli sniper fire.
Yet the 4th Century basilica emerged from the siege with little permanent damage.
The panes of several arched windows near the ceiling were broken. A 12th-century mosaic near the ceiling, which one priest had said was hit by bullets, appeared in good condition.
A Bethlehem Christian, 18-year-old Sandy Shaheen, was in tears as she looked at the interior of the basilica Friday. "This is the place where Jesus was born. I can't believe this is the house of God just look at it," said Shaheen, who worships at the Church of the Nativity.
Copyright 2018 The Associated Press. All rights reserved. This material may not be published, broadcast, rewritten or redistributed. We strive to uphold our values for every story published.