Baltimore — Bob Baffert doesn't care.
The big-shot trainer with the white hair, dark shades and quick quips has heard all the criticism about how a Saudi prince bought him War Emblem for almost a million bucks three weeks before the colt won the Kentucky Derby.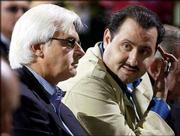 With the Preakness a week away, Baffert's brushing off the barbs so he can prepare to do what he does best: win. Especially when it comes to the Derby and the other Triple Crown races.
"You just keep winning and winning and we're obsessed with it," Baffert said.
He has ruffled the racing world with that mindset and his Derby decisions: acquiring War Emblem at the last minute, a strange move to enter Danthebluegrassman and bump another horse out of the field, then scratching the horse on race day. It left many racing fans with the post-Derby blahs.
Even trainer John Ward, who saddled 2001 Derby winner Monarchos, noticed little buzz after War Emblem won, even at odds of 20-1.
"I'm going to be very diplomatic about this," began Ward, who will send out Booklet to challenge War Emblem in the Preakness, "but I will have to say that on Derby day, there didn't seem to be the emotional outburst post-race that there is sometimes. I think that the Preakness is turning out to be an extremely competitive race, all emotions aside."
Whatever the reaction, Baffert just keeps winning the Classics. Be it with a horse he's trained from the start, or one that landed in his barn three weeks before the Derby, Baffert has a knack for finding the winner's circle.
His horses have won seven of the last 16 Triple Crown races three Derbys, three Preakness Stakes and one Belmont. Twice, with Silver Charm in 1997 and Real Quiet in 1998, he came within inches of saddling the first Triple Crown winner since Affirmed in 1978.
And here he is again, confident as ever War Emblem can beat a full Preakness field and set up another Triple Crown try in the Belmont on June 8.
"I would love to see this horse win that second leg because those Belmont fans, we owe it to them," Baffert said. "They've been coming every year. They want to see it and I'd love to be the one to do it."
The field for the 127th Preakness Stakes is limited to 14 starters, based on several money-earning factors. The horses are listed with trainer, rider and skinny:

Booklet, John Ward, Pat Day, second in Blue Grass.Crimson Hero, Nick Zito, Chris McCarron, second in Lexington.Easyfromthegitgo, Steve Asmussen, Donnie Meche, third in Lexington.Equality, Graham Motion, Ramon Dominguez, second in Aventura.Harlan's Holiday, Ken McPeek, Edgar Prado, seventh in Derby.Magic Weisner, Nancy Alberts, Phil Teator, second in Tesio.Medaglia d'Oro, Bobby Frankel, Jerry Bailey, fourth in Derby.Menacing Dennis, Jeff Bonde, undecided, second in Snow Chief.Perfect Drift, Murray Johnson, Eddie Delahoussaye, third in Derby.Proud Citizen, D. Wayne Lukas, Mike Smith, second in Derby.Straight Gin, Nick Zito, undecided, fourth in Blue Grass.Sunday Break, Neil Drysdale, Gary Stevens, third in Wood.U S S Tinosa, Jerry Hollendorfer, Kent Desormeaux, fifth in Santa Anita Derby.War Emblem, Bob Baffert, Victor Espinoza, Derby winner.
Baffert might not be beloved these days, but he might have an ally in his biggest rival D. Wayne Lukas. The Hall of Fame trainer has spent decades explaining some of his curious decisions, and now Baffert can relate.
The two are not best friends, but there is common ground.
"I think we get along fine now," Baffert said. "I mean, we're competitors. We both come from the same background. We're quarter-horse boys and found our way here. We do things different than other people, and we say what we think sometimes. And it doesn't agree with a lot of people."
Now it's Baffert who's being grilled, with the heat off Lukas after so many years.
"He's sort of quieted down because they got on him for a long time like I'm going to have to quiet down," Baffert said. "Because when you see when we're trying to promote our sport or whatever, trying to have fun with it, we get ridiculed for it."
In the Derby last week, Lukas-trained Proud Citizen finished second. The colt, who never tested War Emblem but remained second from the start, gets another shot in the Preakness.
"We stayed with our game plan, thinking War Emblem would stop," Lukas said. "If you come out of what you do best, then you don't have a chance. I thought he ran well."
A field of 14 3-year-olds is expected for the 1 3-16th-mile Preakness, a sixteenth-of-a-mile shorter then the Derby. Unlike the Derby, when the speedy War Emblem ran away with the race, opposing trainers will make sure their jockeys don't let the Preakness develop the same way.
Booklet, who sat out the Derby after finishing second to Harlan's Holiday in the Blue Grass, is ready. He won't be alone.
"I think everybody is going to be after War Emblem," Ward said. "It's going to be like the Indy 500 at the start."
Baffert isn't offended everyone is after him. It means he just won a big race.
"A large field is not going to hurt a horse like mine because he's a speed horse," Baffert said. "He's going to be out there in front of them."
Racing style doesn't matter if you have the right horse, he said.
"The good horses find a way to get there," Baffert said. "It's just like Wayne when he won it with Charismatic (in 1999). Charismatic was a very good horse and they didn't give him any respect for the second leg. But he got there because he was a good horse."
Besides War Emblem and Proud Citizen, fourth-place Derby finisher Medaglia d'Oro, who will have a new rider in Jerry Bailey, is also set to run, along with Harlan's Holiday, seventh in the Derby.
Among the list of new challengers are: Booklet, Crimson Hero, Easyfromthegitgo, Equality, Magic Weisner, Menacing Dennis, Straight Gin, Sunday Break and U S S Tinosa.
While Baffert trained his previous Derby horses from the start, War Emblem came his way only when Prince Ahmed Salman paid $900,000 for him after the colt won the Illinois Derby.
Now there's a dispute about how to distribute the $1 million bonus War Emblem earned from Sportsman's Park from winning the Illinois and Kentucky Derbys. The former owner, 84-year-old Russell Reineman, is considering a lawsuit, contending he deserves half the bonus.
Baffert said he celebrated his third Derby win with the same enthusiasm as the others. He was asked if War Emblem's victory was a popular one:
"For me, it is," he said. "I think people that didn't think it was popular are all the experts that didn't pick him but just sort of didn't see it right in front of their eyes. I mean this just proved that nobody really knows. That's why racing's so great. If we all knew the answers, it'd be too easy."
Looks pretty easy for Baffert.
Copyright 2018 The Associated Press. All rights reserved. This material may not be published, broadcast, rewritten or redistributed. We strive to uphold our values for every story published.