Hyde Park, N.Y. — Americans' never-ending love of cakes, pies and anything else sweet has created a huge demand in one profession: pastry chefs.
At the Culinary Institute of America, one of the nation's most prestigious cooking schools, chefs who can turn out exquisite desserts and baked goods have become so sought-after that the institute is doubling the number of entry dates for those students interested in making bread and pastry.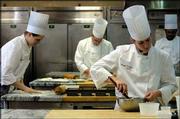 "For years, our profession has been in the background. In the middle of the night, the poor baker is in the cellar, baking," said chef Victor A.L. Gielisse, the associate vice president and dean of culinary baking and pastry studies at the institute located on the Hudson River about 75 miles north of New York City.
That's all changed now that mainstream diners are becoming more sophisticated. The ubiquity of Martha Stewart and food shows on television has raised diners' expectations.
"The American public is highly educated about food today," said chef George Higgins as he showed students how to cut pink marzipan hearts to decorate cakes. "It's a good time for us, for many culinary programs."
It's not about gorging on mass-produced doughnuts.
"It's always the crowning piece for the meal," Gielesse said of dessert.
Chef En-Ming Hsu, the first graduate of the baking program in 1992, is now the award-winning pastry chef for the Four Seasons in Chicago. She supervises 10 people and oversees all baking for the hotel.
"It's a madhouse. We're busy," she said. The institute's baking program gave her basic training in the fundamentals, she said.
She said she fields numerous calls from businesses looking for pastry chefs. "There are a lot of hotels ... looking for a lot of pastry chefs."
"People are more aware of what pastry chefs can do," she said.
U.S. Bureau of Labor Statistics data illustrate the demand for chefs who bake: a 16 percent growth in retail bakeries, a 12 percent growth in baking manufacturing and a 32 percent growth in hotels and lodging by 2008 is expected.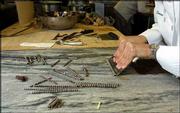 The culinary institute now has about 2,100 students. Of those, 300 specialize in the baking arts. The school runs throughout the year, allowing students pursuing a bachelor's degree to finish in 38 months. An associate's degree takes 21 months.
Tuition ranges from about $11,000 to $16,000 a year.
The interest in baked goods marks a new appreciation for the specialty, but consumers aren't necessarily demanding fancy concoctions. They're looking for comfort food with excellent ingredients, said chef Thomas Gumpel, an associate dean for baking and pastry arts at the school.
"The consumer is starting to see dessert is part of the meal," he said.
Chef Higgins, who has won gold medals for his skills, said making pastries appeals to his creative side and that he enjoys working with his hands.
And chef Daniel Budd, holding a pan of passion fruit jelly for a class on pectin, put it this way: "I'm the luckiest guy in the world. I get to go to work and make candy."
Many of the graduates don't have trouble finding a job.
"It's an industry that's clamoring for people," said Ray Wells, the director of career services at the school, which boasts a 96 percent placement rate. Starting salaries as a pastry chef can range from $18,000 to $30,000. An experienced pastry chef can make upward of $100,000.
Copyright 2018 The Associated Press. All rights reserved. This material may not be published, broadcast, rewritten or redistributed. We strive to uphold our values for every story published.