Chicago — Arthur Andersen chief executive Joseph Berardino resigned Tuesday, bowing to mounting pressure as a result of the accounting firm's role in the Enron scandal.
His announcement came four days after former Federal Reserve chairman Paul Volcker urged top management to step aside so he can install and head an independent board in a last-ditch plan to save the company.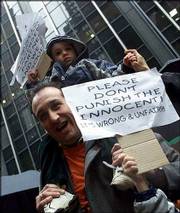 Berardino disclosed his decision as Andersen partners, in internal company e-mails, stepped up pressure on him to quit. He said he would remain in charge until a successor is chosen.
"I felt I had to take this step today to put an exclamation point behind the voices of our people, to say that we are serious and we're a serious firm that deserves to continue here in the United States," Berardino said.
Yet of the 89-year-old firm, he said: "We're in deep stress."
The key element of Volcker's plan is the dismissal of a federal indictment against Andersen alleging obstruction of justice for destroying Enron-related documents. The Justice Department has not said whether it would consider such a move.
Andersen has lost more than 70 clients this year and overseas affiliates have been bolting to rival firms. Industry experts are doubtful whether Volcker's plan or any other can prevent the company from folding.
The firm suffered another blow Tuesday as the Securities and Exchange Commission said in a court filing that Andersen was involved in a scheme that allowed former executives of Waste Management Inc. to inflate earnings by $1.7 billion.
Last year, Andersen paid a $7 million fine to settle an SEC suit accusing it of issuing false and misleading audit reports that inflated Waste Management's earnings from 1993 to 1996.
Copyright 2018 The Associated Press. All rights reserved. This material may not be published, broadcast, rewritten or redistributed. We strive to uphold our values for every story published.