The acclaimed international opera company Teatro Lirico D'Europa will present Giuseppe Verdi's "Rigoletto" at 7 p.m. March 10 at the Lied Center.
The company made its Lied Center debut last year with "Aida."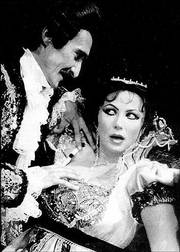 "Rigoletto" takes place during the 1500s in Mantua, Italy, and tells the story of the flirtations of the Duke of Mantua, the arrogance of his hunchback court jester Rigoletto and the accidental death of Rigoletto's daughter, Gilda.
Teatro Lirico D'Europa, one of the largest and most successful opera touring companies in Latin Europe, has presented thousands of fully staged opera productions since it was founded in 1986 in Paris. The company has offices in Spain, France, Germany, Italy and the United States.
Act I runs one hour, 10 minutes; Act II is a half-hour; and Act III is a half-hour. The opera will be sung in Italian with English supertitles projected above the stage. The music is provided by a full orchestra.
Admission ranges from $16 to $38. Tickets can be purchased at the Lied Center Box Office, 864-ARTS; Murphy Hall Box Office, 864-3982; Student Union Activities Box Office, 864-3477; Ticketmaster, (816) 931-3330 or (785) 234-4545; and online at www.tickets.com.
Copyright 2018 The Lawrence Journal-World. All rights reserved. This material may not be published, broadcast, rewritten or redistributed. We strive to uphold our values for every story published.