Washington — Senate Democratic leaders on Friday failed to force final action on a bill to overhaul voting systems nationwide, but lawmakers close to the issue said they were nonetheless on the verge of a deal that could lead to bipartisan passage of the measure next week.
The bill has been stalled by a Republican proposal to require first-time voters to prove their identity if they have registered by mail, a measure aimed at reducing alleged voter fraud.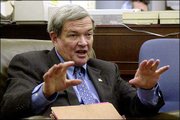 Leading Democrats, who have complained that the anti-fraud measure would discriminate against elderly, poor and minority voters, now say they would accede to the main thrust of the GOP proposal in hopes of moving the legislation forward.
The Democrats announced their desire for compromise after failing in the bid to stop a Republican filibuster. In a 49-39 tally, Democrats fell 11 votes short of the 60 votes needed to cut off debate.
It was the second time this week that the two parties have bogged down on legislation that had appeared to be on a fast track toward approval.
Frustrated by the impasse, Senate Majority Leader Tom Daschle, D-S.D., warned Friday that if the Senate cannot resolve the issue by Tuesday, he would turn to other matters and "assume Republicans have killed the bill for good."
Republicans said they were not to blame.
"We want election reform," said Senate Minority Leader Trent Lott, R-Miss. "We want fair elections, where people can vote, and we also want honest elections."
At stake is a bill that would distribute $3.5 billion over five years to help state and local election officials upgrade voting systems, which were highlighted during the 2000 election controversy.
The bill also would establish minimum standards for voting systems, install safeguards to help ensure voters cast valid ballots and require states to maintain statewide registration lists.
The GOP's anti-fraud proposal, pushed by Sen. Christopher Bond, R-Mo., would require voters who registered by mail and are casting their first ballot to show a photo identification or another document, such as a utility bill, to prove they are who they say they are.
Many civil rights groups have criticized the proposal as a potential obstacle to voting for people who fail to carry an acceptable ID card or document to their polling places. They supported a counterproposal by Sens. Charles E. Schumer, D-N.Y., and Ron Wyden, D-Ore., to allow states to verify identity by checking voter signatures.
But Bond stood firm, and nearly all Republicans backed him.
Copyright 2018 The Lawrence Journal-World. All rights reserved. This material may not be published, broadcast, rewritten or redistributed. We strive to uphold our values for every story published.