Balata Refugee Camp, West Bank — Israeli troops moved deeper into two Palestinian refugee camps Friday, trading fire with gunmen and setting off explosives in house-to-house searches for weapons and militants. One soldier and six Palestinians were killed, among them a 10-year-old girl.
Israeli army commanders said the assault on the shantytowns of Jenin and Balata, both strongholds of Palestinian militiamen, delivered a message to the militants that they have nowhere to hide.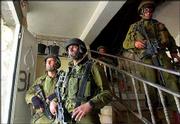 But several Israeli military commentators said the operation a first in 17 months of fighting was not only futile but also risky. One reason is the only way into the clusters of cinderblock houses is by alleys that are too narrow for tanks.
"This is not a calculated risk. It's a dangerous gamble," military correspondent Alex Fishman wrote in the Yediot Ahronot daily.
In the Gaza Strip, a 7-year-old Palestinian boy was killed by what Palestinian witnesses said was indiscriminate Israeli machine-gun fire toward a Bedouin encampment. The army was investigating what it said were warning shots fired at approaching Palestinians from an Israeli tank.
The Israeli incursion into Jenin and Balata began Thursday, with dozens of tanks and armored personnel carriers encircling the camps. Backed by helicopter gunships, troops moved in on foot, trading fire with gunmen who also set off homemade bombs.
In addition to the soldier killed on Friday, another was seriously wounded by gunfire during the incursion into the Jenin camp, the army said. In two days, 19 Palestinians and two Israeli soldiers have been killed. Dozens of Palestinians have been wounded.
Israeli soldiers moved cautiously through the alleys of Balata in search of weapons. At one point, four soldiers jumped from a balcony to an adjacent building. Nearby a soldier clutched a map and another, apparently seeking cover, crouched in a shop whose facade had been blown out.
Explosions could be heard as soldiers set off small bombs during house searches.
A tour of the camp revealed at least seven damaged homes. Eight other buildings were taken over by Israeli troops, with an Israeli flag fluttering from one window.
In one two-story building, some connecting walls were missing and the ground floor was covered in rubble. A computer, clothes, mattresses and TV were visible under the debris.
The owner, 70-year-old Mohammed Houti, said soldiers searched the house Friday after ordering everyone out. "Then they ran out of the house, and we heard an explosion," he said.
Copyright 2018 The Associated Press. All rights reserved. This material may not be published, broadcast, rewritten or redistributed. We strive to uphold our values for every story published.