Dover Township, N.J. — In the summer of 1971, an 11-year-old boy's go-cart careened into traffic, and John W. Mabie could not stop his station wagon in time. The boy was killed.
Now authorities are investigating whether Jeffrey Bernardini's death more than 30 years ago set in motion Mabie's descent into madness and, possibly, murder.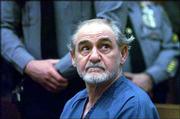 Mabie, a 70-year-old former police officer, is charged with killing his granddaughter and three neighbors in a Feb. 21 shooting rampage. His lawyer is expected to mount a defense based on Mabie's mental state.
"From what I gather, he never really got over Jeffrey and the accident," said the boy's father, Fred Bernardini, 70.
Jeffrey was on a neighbor's go-cart when the pedal broke and he lost control. He suffered a brain stem injury and died 28 days later.
"It was just a tragic, tragic accident," said his father. "We never blamed the guy."
Mabie was not charged in the death, and the boy's family never sued, even after his mother killed herself two years later with an overdose of pills in an airport motel room.
But Mabie, a Newark policeman, was tortured by the memory, according to his former partner, Larry Policastro. Policastro said he noticed the change immediately: Mabie became morose, breaking into tears some nights for no apparent reason.
"I'd tell him, 'It was an accident. It wasn't your fault,"' Policastro told The Star-Ledger of Newark. "He would say, 'Yeah? Tell his mom and dad that."'
Mabie retired on disability five years later after 18 1/2 years on the force. Officials will not say what the disability was, except that it was unrelated to his police work.
Mabie's deteriorating mental state was noticed by neighbors and family members. He painted the windows of his home black and rarely ventured outside, convinced that criminals he had helped put away were after him, according to his daughter-in-law, Michelle Mabie.
On Feb. 21, he apparently snapped, locking his wife in the basement and walking out of his Dover Township home with a .38-caliber revolver, according to police. He walked down the street to his mother-in-law's house, where he allegedly shot and killed 22-year-old Natalie Gingerelli, who was said to be his favorite granddaughter.
Then he walked to each of his next-door neighbors' homes and fatally shot Sue Keiran, 42, a single mother; Thomas Luyster, 27; and Luster's fiancee, Suzanne Lavecchia, 27, before returning to his own house and putting his pistol down, authorities said.
Prosecutors will not say what the motive was.
Copyright 2018 The Associated Press. All rights reserved. This material may not be published, broadcast, rewritten or redistributed. We strive to uphold our values for every story published.