Owings Mills, Md. — After the twisting putt rolled into the cup on the 18th hole, Don Pooley held his club skyward and flashed a broad smile to the appreciative gallery.
The 18-footer for par capped a record-setting round of 8-under-par 63 that thrust Pooley into the lead Saturday after three rounds of the U.S Senior Open.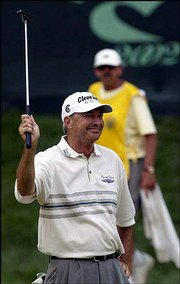 Pooley made an amazing nine birdies at the difficult 7,005-yard Caves Valley Golf Club. He set a tournament record for low score over 18 holes and finished the day at 9-under 204, three shots ahead of Tom Watson and second-round leader Walter Hall.
"A lot of great things happened today," said Pooley, seeking his first win in a PGA event since the 1987 Memorial. "I hit good shots at times, I got good bounces at times and obviously putted very well. It was a fun round to play."
Watson shot a 69, and Hall bogeyed the final two holes for a 72.
Ed Dougherty made five birdies en route to a 68 that left him four shots back, and Tom Kite was at 209 after a wild 73 that included five bogeys and a double bogey.
Pooley started the day with a birdie on No. 1, but on the second hole missed a 15-foot putt for his lone bogey. He then birdied six of the next eight holes to get into contention at 7-under.
After five straight pars, Pooley used birdies on No. 16 to move into the lead for the first time, then made an 18-foot birdie putt on 17 to set up a rousing ending on 18.
"Those were two great putts, a great way to finish," he said.
The curling putt on 18, however, was the one he savored most.
"It broke at least two feet and I had a lot of speed to work with there," Pooley said. "When that went in, I was a little surprised. But good things happened all day."
In a tournament that features such names as Kite, Watson, Hale Irwin and Arnold Palmer, Pooley became the third-straight relative unknown to finish the day with the lead. E.W. Eaks started the trend with a 64 Thursday, and Hall took over the top spot Friday.
Now there's Pooley, a first-time entrant in this tournament who hasn't done better than ninth place in 14 events this year.
"My game is just starting to come around," he said. "This would be a good time for it to come all the way around."
Pooley is seeking to become the sixth player to win the U.S. Senior Open on his first attempt, and the first golfer since Graham Marsh in 1997 to make a third-round lead stand up.
"I honestly don't know all the benefits of winning a major championship like this would be," he said. "And I don't want to be thinking about it when I begin play tomorrow. I want to avoid the temptation of thinking too far ahead."
Hall started the day as if he would run away from the field, nailing birdies on the first three holes to go 10-under. But bogeys on Nos. 7 and 9 blunted his charge, and he followed a birdie on 16 by closing with two straight bogeys.
"I can't complain about being in second place. A lot of guys would trade places with me," Hall said. "My mindset tomorrow is to just go out there and hit fairways and greens. That's what you've got to do to win the Open."
Kite wouldn't argue that assessment, particularly after a day in which he was betrayed by an erratic driver.
"It was hard enough for me to drive the ball in the state of Maryland, let alone Caves Valley," Kite said. "I guess except for a major mess-up on 17, I hung in there pretty good. But this is a difficult golf course when you're driving the ball down the center of the fairway."
Watson remained in the hunt despite a disappointing finish. He opened with three straight birdies and went 8-under with another on 11, but he lost two strokes on the final seven holes.
Copyright 2017 The Associated Press. All rights reserved. This material may not be published, broadcast, rewritten or redistributed. We strive to uphold our values for every story published.