Washington — He didn't finish first, second or even in the top 20, but President Bush tried to lead by example Saturday in a three-mile run with hundreds of White House workers.
His goal was to convince Americans to take to heart his message that regular exercise is essential to the good health of both the person and the nation.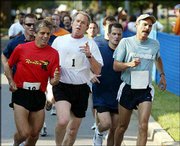 Bush came in near the top of the 400-runner field, finishing 26th.
The 55-year-old president was clocked by a chip in Bush's running shoe at 20:29.
"It's important for those of us in the White House to live how we talk," Bush told his workers. "If we're going to say we're going to live a healthy life, let's do it. If we say we care about a neighbor in need, if we want to love a neighbor like we'd like to be loved ourselves, let's show it through our actions."
To Americans generally, he said: "I know you're a better worker if you exercise on a daily basis. I know you'll help keep the health-care costs down in America if you exercise on a daily basis. I know your life will be more complete if you exercise and serve a neighbor in need."
Copyright 2018 The Associated Press. All rights reserved. This material may not be published, broadcast, rewritten or redistributed. We strive to uphold our values for every story published.