Jerusalem — Dozens of Israeli tanks early today rolled into the West Bank city of Nablus, witnesses said, hours after the army said Palestinian infiltrators took over a house at a nearby Jewish settlement, killing five Israelis and wounding eight others.
The move into Nablus came as Israeli troops kept a tight grip on other Palestinian towns following a new policy of retaliating for attacks by taking territory.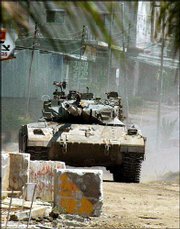 Eight other people were wounded in the attack on the home in the West Bank settlement of Itamar.
Soldiers stormed the house, killing one of the infiltrators, while another jumped out a window after the house caught fire, witnesses said. The fate of the second gunman was not known.
The Popular Front for the Liberation of Palestine claimed responsibility. Prime Minister Ariel Sharon's office called it a "horrendous attack" and promised an Israeli response.
Witnesses said about 50 tanks and a number of armored bulldozers had entered Nablus around 4 a.m. today. The tanks fired sporadic bursts of machine-gun fire but there was no apparent resistance, and soldiers used loudspeakers to declare a curfew, witnesses said. The Israeli army would not immediately comment.
Earlier Thursday, Israeli forces rounded up Palestinians for questioning in Jenin, Qalqiliya, Bethlehem and Beitunia, a suburb of Ramallah, Palestinians and the military said. Israeli forces tightly encircled Tulkarem, as Israel Radio broadcast alerts about suicide bombers about to attack Israel.
After a two-day sweep, Israeli forces pulled out of Qalqiliya, which is on the line between Israel and the West Bank at Israel's narrowest point, just nine miles across.
Two bombings in Jerusalem killed 26 Israelis on Tuesday and Wednesday, leading the Israeli government to press ahead with a new policy of seizing Palestinian territories as a response to the suicide attacks.
Defense Minister Binyamin Ben-Eliezer said that "one reserves division," about 1,200 soldiers, had been called up to bolster Israel's defenses.
Copyright 2018 The Associated Press. All rights reserved. This material may not be published, broadcast, rewritten or redistributed. We strive to uphold our values for every story published.