I have seen city gardens and county gardens, formal ones and wildflower ones. I've seen gardens spread across hillsides and those tucked into small apartment patios. I have seen water gardens and rock gardens, woodland gardens and sunny border gardens.
To be sure, though, I have never seen a garden that was finished.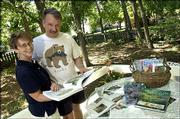 And, now, I have seen a garden that hasn't been started.
The garden of Jan and Harvey Irby on Boulder Street was nothing more than an ordinary fenced rectangular back yard with a random scattering of walnut trees and a bit of grass when I saw it near the end of May. A small clump of irises and a couple of variegated hostas grew inside an oddly angled patch of mulch, bordered by landscape timbers.
For all its nothingness when I visited, the garden actually had been started (I should say planned) months before. And, if I am to believe the enthusiastic Jan, the garden will be well under way by the start of summer.
I sat with the Irbys at their kitchen table while Jan eagerly talked about the garden-to-be, showing me a sketch she had drawn depicting a complete redesign of the back yard. Gone are the landscape timbers and the awkwardly shaped mulched area. Instead, her renovation includes a deck with plenty of seating space, a curving mulch path leading to a water feature and a pleasant grassy area. This "paper garden" made the back yard look better already.
"It's been a process that's developed out of wishes," Jan explained.
Their garden wish list contains a kidney-shaped pond, a deck with furniture, yellow roses, clematis, peonies, flowering trees, paths, some grass, annual beds and a cutting garden.
The peonies and yellow rose are plants from her mother's farm in northwest Kansas.
"I watched my mom garden," she said. "She was such an adventuress. She enjoyed gardening."
Jan plans a cutting garden, filled with zinnias. The seeds are also from her mother's garden.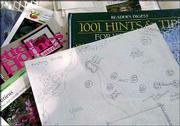 "I can't wait to plant them," she said.
Jan has included all the existing trees in her drawing.
"These two right here are just made for a hammock," she said pointing to the sketch of two trees about 8 feet apart.
"I see some containers, a bird bath ," she continued as her finger moved across the page.
The plain wooden picket fence will be replaced with a white privacy fence with lattice top and lined with yellow roses. In one corner peonies and lilies will grow, in the other elephant ears.
"To me, it's like decorating a house," she noted. "I clipped out pictures, got on the Internet."
She handed me a stack of books, magazines and newspapers that she has saved over the years. She showed me clippings from newspapers of plants and colors she likes and gardening books and magazines whose pages are marked by sticky notes to bookmark pictures of garden features and landscape designs that she finds interesting.
The Irbys moved into their new home last fall.
"We bought a house that was a mess," Harvey said.
Though he carted out five truckloads of debris from the back yard, he wasn't dismayed. He has a simple philosophy.
"You buy the worst house in the nicest neighborhood and fix it up," he said.
Jan has a similar philosophy, "Leave it better than when you found it."
The Irbys have been busy living their philosophies. They replaced the roof, put on an attractive two-tiered front porch and did interior decorating.
"We worked a lot on the inside in the winter," Jan remarked.
But once spring rolled around, their thoughts turned to the outdoors.
The two of them are making things happen quickly. Harvey had started the back deck the day before my visit and planned to complete it the following day.
"Neither one of us is very good with messes," Jan admitted.
"One thing leads to another. It's kind of evolving."
Harvey claimed that Jan is the one with the vision.
"I do the labor," he quipped.
"We do have a vision of what it would look like," Jan agreed. "We are intent on making this a really pleasant place. Wow! Two years from now this can be fun to look at."
---
Carol Boncella is education coordinator at Lawrence Memorial Hospital and home and garden writer for the Journal-World.
Copyright 2018 The Lawrence Journal-World. All rights reserved. This material may not be published, broadcast, rewritten or redistributed. We strive to uphold our values for every story published.