Dallas — In a searing confession of failure, the leader of the United States' Roman Catholic bishops opened a national meeting on priestly sex abuse Thursday by offering "the most profound apology" for derelict leadership, begged forgiveness and pledged to do penance by enacting tough reform measures.
Bishop Wilton D. Gregory, president of the United States Conference of Catholic Bishops, squarely admitted that too often bishops were more worried about scandal than preventing abuse and too often had treated victims as "adversaries and not as suffering members of the church."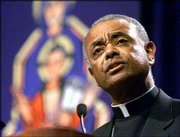 Gregory called on all victims of clergy abuse to report crimes committed against them, pledging the church's love and help in seeking justice. He also urged all abusive priests and bishops to step forward and confess their own crimes.
"This crisis is not about a lack of faith in God," Gregory said. "The crisis, in truth, is about a profound loss of confidence by the faithful in our leadership as shepherds. ... Only by truthful confession, heartfelt contrition and firm purpose of amendment can we hope to receive the generous mercy of God and the forgiveness of our brothers and sisters."
Gregory's address, which drew a sustained standing ovation, set the tone for an dramatic opening session that featured testimony from sex-abuse victims and the strongest criticism of the elite body ever permitted at its national conference. The gathering, which many bishops described as the most morose and humiliating they had ever experienced, is devoted to the single issue of crafting what would be the American church's first mandatory national policy aimed at preventing clergy sex abuse against minors.
The Rev. Thomas Reese, editor of the Jesuit magazine America, called the day's events "absolutely unique and historic." In the two decades he has attended the bishops' conferences, he said, "I've never seen the bishops be so forthright in admitting what they did was wrong. Instead of sidestepping and legalese ... (Gregory) confessed the sins of the bishops publicly and promised he would make sure they would never do this again."
Victims address prelates
In the day's most emotional moments, victims of priestly abuse tearfully shared their experiences and lasting scars to the full body of about 300 bishops the first time victims had spoken to a full conference.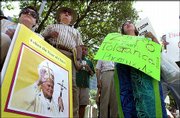 Craig Martin of Minnesota described the alcoholism, shattered self-esteem and aberrant sexual behavior that his abuse at 11 by his parish priest had triggered 35 years ago. Paula Gonzales Rohrbacher of Alaska spoke of a nervous breakdown, suicidal thoughts and near divorce after being accosted by a seminary student as a child. Michael Bland of Chicago chronicled how his abuse drove him out of the priesthood, even as his perpetrator is scheduled to teach at an unnamed national Catholic university.
And David Clohessy, the director of a national victims' advocacy group that has become the leading moral force for change, asked bishops to pass around a photo of a victim who committed suicide, Eric Patterson of Kansas, and offer prayers. Clohessy and others have demanded the ouster of all priests who abuse children, the removal of bishops who reassign rather than dismiss perpetrators and the opening of all financial and personnel records to scrutiny by law enforcement.
"Don't settle for cheap talk, grave expressions of concern, eloquent apologies, for pledges to do better," said Clohessy of the Survivors' Network of Those Abused by Priests. "Hold out for the real thing. That's what our children deserve."
'Zero tolerance'
Several bishops said the powerful testimonies Thursday along with the media glare of more than 700 reporters appeared to be solidifying support for a "zero tolerance" policy that would oust from the priesthood any perpetrator of sexual abuse, past or present.
Last week, a committee of the bishops' conference issued a draft proposal to defrock any priest guilty of sexually abusing minors after the new policy takes place. In a controversial loophole, however, the committee proposed that priests guilty of a single incident of abuse could be returned to ministry if they had sought psychological counseling, were found not to be a pedophile and had the backing of a lay-dominated sexual-abuse committee.
Cardinal Roger M. Mahony of Los Angeles, one of the conference's most outspoken proponents of tough reform, predicted that the loophole would be deleted from the draft proposal by the time the bishops vote today. Although passage of the policy will require a two-thirds vote, Mahony said he was pushing for a unanimous backing to send the measure to the Vatican, whose approval is required to make it binding on all 194 U.S. dioceses.
Addressing the rising clamor for penalties against church leaders who cover up sexual abuse, Mahony also said that any bishop who aids and abets misconduct by reassigning rather than dismissing priests should find it "impossible to remain in office."
Under canon law, however, only the pope can remove a bishop, and Bishop Anthony Bosco of Pennsylvania predicted that the draft proposal will not include any new measures for disciplining bishops.
Even without concrete measures, Reese, the Jesuit magazine editor, said the creation of lay-dominated review boards will "hold the bishops' feet to the fire" by monitoring each diocese's performance and making public those bishops who fail to aggressively implement the reform proposals.
After the bishops spent three hours in closed executive session Thursday, Gregory said they "spoke very frankly about their angers, their fears, their disappointments." He said some unidentified bishops "expressed regret" for their actions.
| | | |
| --- | --- | --- |
| | | |
| | Victims of priest abuse share stories, pain at conferenceThe Associated PressFollowing are excerpts from speeches Thursday by victims of priest abuse to the nation's Roman Catholic bishops:"Since the priest who abused me went to treatment and was 'cured' he has taught at a seminary. He is now a full professor and vice dean at a pontifical university. He is scheduled to teach this summer at a nationally known Catholic university. The president of that university has assured me that he is not teaching there, while the university's registrar and Web site both indicate that he will be teaching there. Whom am I to believe? What am I to believe?"Michael Bland, Chicago."I fear that my need for therapy and/or medication will be ongoing for the foreseeable future. This crime has left deep scars on my soul. Father Jose violated my innocence, ruined my adolescence and deeply wounded my self-confidence, self-esteem and sexual response. I have suffered from chronic depression and anxiety since the abuse, depression and anxiety so severe at times that I have contemplated suicide. It is only through the divine mercy of God and the support and love of my family and friends that I am alive today. As you know, there are many victims who have ended their lives because of the pain of sexual abuse."Paula Gonzales Rohr-bacher, Juneau, Alaska."Children are a gift from God and Catholic parents know this. That's why 87 percent of them think a bishop who has helped a molester commit a crime and enabled him should resign. ... My perpetrator is not still serving in a parish as dozens of perpetrators are. I have never gotten death threats ... I've survived. But not all of us do."David Clohessy of St. Louis, national director of Survivors Network of those Abused by Priests. | |
| | | |
Copyright 2018 The Lawrence Journal-World. All rights reserved. This material may not be published, broadcast, rewritten or redistributed. We strive to uphold our values for every story published.