Farmingdale, N.Y. — Tiger Woods emerged through a corridor of fans about 100 yards down the 10th fairway and turned toward the tee box, unaware that Mark Calcavecchia already was standing over his ball, ready to launch his tee shot.
Woods smiled and stood his ground in the line of fire. He never flinched when Calcavecchia's drive zipped well over his head.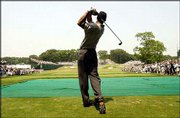 It might have been the safest Woods felt all day.
Put a club in his hand, and that's where the U.S. Open gets a little frightening.
"I don't know if the golfing public who plays here would want to have it set up like this for them every day," Woods said Tuesday after his first full practice round for the U.S. Open since arriving at Bethpage State Park.
He first toured the Black Course two weeks ago, and called it the toughest par 70 he had ever played. Nothing about his practice round made him change his mind.
"It's set up so difficult," he said. "It's going to be a test for all of us."
Woods already has won three times this year, beating Phil Mickelson at Bay Hill, Colin Montgomerie in Germany and a full cast of top-ranked players at the Masters.
"It's a very difficult challenge to compete against him because he's able to do things with the golf ball that not many can even envision," Mickelson said. "A lot of people see that as a difficulty, and it is; but it's also a wonderful challenge."
The other challenge is the Black Course.
Fairways aren't much wider than a two-lane country road, framed on both sides by rough that is ankle-high and extremely thick.
"It's like trying to hit out of peanut butter," David Duval said.
The greens are not as severe as other courses, but they are super slick and likely will be like linoleum floors by the end of the week.
"When you're on the tee, you're thinking, 'Geez, I'd better hit it in the fairway,'" Sergio Garcia said. "When you're in the fairway, you're thinking, 'I've got to hit a good shot to the right spot on the green.' And then the greens are really fast.
"I think it's probably the toughest tournament in the world."
No argument from Woods on that, either.
"It takes a lot of energy out of you to play this championship, to play it well and to contend," he said. "By the end of the week, you're pretty fried."
While his U.S. Open victory at Pebble Beach two years ago was the most dominant performance in the 142-year history of the majors, Woods said the Open is the most difficult of all the majors to win.
Especially this year.
The most famous landmark on the Black Course is a sign on the first tee that warns anyone who pays $31 during the week that it is recommended "only for highly skilled golfers."
Then, the USGA worked its magic some might say sorcery by putting the rough on steroids and pinching the fairways. Volunteers are equipped with tiny yellow flags to mark balls that land in the rough; otherwise, the players might never find them.
"I don't think anyone will disagree that you need to drive the ball well," Woods said.
The Black Course is 7,214 yards, the longest par-70 course in U.S. Open history. Woods spent his practice round trying to figure out where to hit the ball, and with which club.
He hit 3-wood into the left rough on No. 1 for the second straight day, then reloaded with a 2-iron and found the short grass. Determined to find the fairway on the 489-yard fifth hole, he hit another 2-iron, then a 7-iron to the green.
In all, he hit driver only five times Tuesday.
"Any hole you hit it in the fairway, you've got an advantage," Davis Love III said. "And any hole you hit it in the rough, you're looking at a bogey."
Copyright 2018 The Associated Press. All rights reserved. This material may not be published, broadcast, rewritten or redistributed. We strive to uphold our values for every story published.