The daughter of a Cuban refugee met the president of the United States Friday on the 49th anniversary of the communist takeover of Cuba.
But Caroline Nobo, 17, didn't get a chance to tell President Bush about the interesting coincidence when she met him during her week in Washington, D.C., as a Girls Nation senator. Maybe because part of her meeting with the president was spent with her hands over her face.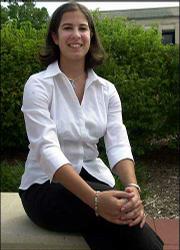 "When he walked out of the Secret Service room, my hands immediately flew to my face, and I screamed," said Nobo, who will be a senior at Free State High School. "Finally, when I put my hands down he was looking right at me, laughing."
Nobo said although her political views leaned more to the left, she was impressed by the Republican president just the same.
"He was a very sweet guy," said Nobo, who dreams of working at the FBI. "He was very funny. He cracked some great jokes and had us all laughing."
Nobo earned the trip to Girls Nation when she was a delegate at Girls State in June at Kansas University. She was elected from nearly 450 girls who participated.
At Girls State sessions, participants learn local and state government processes. At Girls Nation, delegates learn how government and the democratic process work on a national level. Two girls from each state participate in a mock government system. Nobo represented Kansas, along with Elaine Jardon of Overland Park.
Each team of senators brings a bill to propose. Nobo and Jardon drafted a bill called the "Gender Blind Selective Service Act," which would require both men and women to register for the draft. It failed by one vote.
Nobo's mother, Missy Nobo, knows her daughter will find her way to politics after high school.
"You see with your kids a pattern emerging," Missy Nobo said. "They just seem to be going down a track ... And that's the track she's going down. She's always reached whatever goals she sets."
Now that she's spent time on Capitol Hill, Nobo's excited to use the skills she learned.
"There's so much to do," she said. "I'm sure the first time I will apply all that I've learned from my trip, I will be amazed."
Copyright 2018 The Lawrence Journal-World. All rights reserved. This material may not be published, broadcast, rewritten or redistributed. We strive to uphold our values for every story published.