Lawrence's nonprofit arts industry generated $33.46 million in spending during 2000 and attracted more than 548,000 people, according to a new national study.
"We think this should open some people's eyes to the fact that art is not just something that is nice and contributes to our quality of life, but it also has a real economic value," said Judy Billings, director of the Lawrence Convention and Visitors Bureau.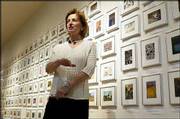 The bureau was one of eight Lawrence organizations that gathered data for the study by conducting surveys at several arts events, ranging from Lied Center performances to Art in the Park and Lawrence Community Theatre events. The surveys were prepared by the Washington D.C.-based Americans for the Arts.
Attendees were asked a variety of questions, including how much they were spending on hotel rooms, meals, souvenirs, transportation and other expenses.
The results: The average attendee of an arts event spent $30.15, not including cost of admission, as part of their outing. If the visitor was from outside Douglas County, the amount jumped to $47.78.
The survey estimated the spending of attendees added $16.52 million to the Lawrence economy. The survey also estimated the spending of the eight organizations the Lied Center, Helen Foresman Spencer Museum of Art, Lawrence Community Theatre, Lawrence Arts Center, Lawrence Art Guild, Lawrence Chamber Players, University Theatre, and the Lawrence Convention and Visitors Bureau amounted to $16.94 million. That spending included items such as employee salaries and art supplies.
Ann Evans, director of the Lawrence Arts Center, said the numbers were a real eye-opener.
"I didn't think we would come up with as large of number as we did," Evans said. "But I always suspected that we were more of an economic force than what we in the arts community sometimes thought, and certainly bigger than what the community thought."
The Americans for the Arts study surveyed 91 communities across the nation. Here's a look at how Lawrence's $33 million art industry compared with cities of similar size:Fort Collins, Colo.: $9.62 millionBoise, Idaho: $17.98 millionBoulder, Colo.: $19.41 millionBloomington, Ind.: $44.52 millionAsheville, N.C.: $60.98 millionSanta Fe, N.M.: $222.6 million
The organizations, which are part of Lawrence's Roundtable for Arts and Culture, plan to make presentations about the study's findings to city and county commissioners as well as to the Lawrence Chamber of Commerce, Evans said
Both she and Billings said the number could grow as the Lawrence Arts Center adds new programs and the community increases specialty arts events.
"We have real good potential to even increase the economic value of the arts," Billings said. "We have a lot of talent in this area, and now we just have to be visionary and be willing to take some risks and throw some new ideas out there."
Randy Cohen, vice president of research and information for Americans for the Arts, said the results showed Lawrence was on the way to building a strong arts economy. He said the study indicated about 35 percent of the people attending arts events in Lawrence came from outside the county. That is significantly higher than the national average of 22 percent.
"That says to me that in the region, Lawrence already is becoming a destination for art lovers," Cohen said.
Copyright 2018 The Lawrence Journal-World. All rights reserved. This material may not be published, broadcast, rewritten or redistributed. We strive to uphold our values for every story published.