Montgomery, Ala. — Fred Gray Sr., who defended Rosa Parks in her landmark bus segregation case and represented victims of the infamous Tuskegee syphilis experiment, has broken another racial barrier at 71: He has become the first black president of the Alabama bar.
With his installation today, the civil rights lawyer assumes a post that white attorneys normally achieve in their 50s.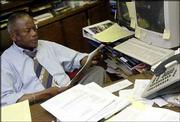 "I'm probably the oldest bar president we've had. It takes us a little longer to get there, but the important thing is we're here," Gray said.
Mississippi, South Carolina, and North Carolina have had black bar association presidents, but minorities in leadership roles in Southern bar associations are still rare.
Outgoing president Larry Morris, 58, said he was delighted when Gray was elected without opposition to lead the 13,500-member organization. "He's a legend," Morris said.
He's also an unlikely one.
Gray grew up poor in Montgomery. He does not remember his father, who died when he was 2, but his mother was a forceful guide.
"My mother told us that if we stayed in school, stayed out of trouble and kept Christ first in our lives, we could be anything we wanted to be. I've always tried to remember that," Gray said.
Gray attended Nashville Christian Institute and became a Church of Christ minister, a calling he still pursues part-time. Then he went to all-black Alabama State University, intent on becoming a teacher until his daily rides on Montgomery's segregated buses sparked an interest in law.
Alabama's law schools did not admit blacks in the early 1950s, so Gray headed to Case Western Reserve University in Cleveland. His goal: "To destroy everything segregated I could find. I kept this secret to myself. If that had gotten out, I'd have never been admitted to the Alabama Bar, in my opinion."
Once he was admitted in 1954, it didn't take long for Gray's secret to become known.
Copyright 2017 The Associated Press. All rights reserved. This material may not be published, broadcast, rewritten or redistributed. We strive to uphold our values for every story published.