Kansas City, Mo — Kansas City won its eighth straight game, the Royals' best streak since 1994, as Raul Ibanez hit a three-run homer Friday night in an 8-5 victory against the Cleveland Indians.
Chuck Finley, scratched from his start for the Indians, was traded to St. Louis for minor league first baseman Luis Garcia and a player to be named. The deal was announced before the game ended.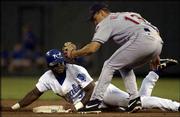 Ibanez, who recently set a Royals record with 13 RBIs in three games, homered to highlight a five-run seventh inning.
Ibanez now is hitting .384 with nine home runs and 27 RBIs in his last 20 games. He's played first base for the last seven games in place of injured All-Star Mike Sweeney, who is listed as day-to-day with stiffness in his lower back.
The Royals came from behind for the sixth straight time during their winning string. The streak is their longest since winning 14 in a row eight years ago.
Scott Mullen (2-2) relieved in the sixth and got the victory. Roberto Hernandez pitched a scoreless ninth for his 18th save.
Heath Murray (0-1) took the loss.
It was 3-all when Aaron Guiel led off the Royals seventh with a walk and Luis Alicea singled. Carlos Beltran also hit an RBI single and stole second, with a runner scoring on the play when the ball got loose.
After Joe Randa was hit by a pitch, Ibanez launched his home run into the fountains in right field.
The Royals took a 2-0 lead in the first off Jason Phillips. Guiel led off with a walk, Alicea followed with an infield hit and Beltran had an RBI single. Another run scored on Michael Tucker's RBI grounder.
The Indians got a run back in the third on an RBI double by Milton Bradley.
Although Royals pitcher Miguel Asencio owned a 2-1 lead after three innings, he already had thrown 91 pitches, 57 for strikes, including 32 foul balls.
Ellis Burks led off the Indians fifth with a home run. With two outs, Bradley also homered for a 3-2 lead.
The Royals tied it in the fifth on a double error on first baseman Lee Stevens.
Stevens mishandled Beltran's two-out grounder, then threw it into the runner. The ball caromed off Beltran into foul territory, allowing Brent Mayne to score from second.
Ben Broussard and Chris Magruder homered in the eighth for the Indians.
Notes: Bradley left the game after the top of the seventh with a strained right hamstring. He is listed as day-to-day. He was replaced in the lineup by John McDonald. ... Indians 1B Jim Thome was not in the starting lineup with stiffness in his lower back. He was out of the lineup Thursday, too. He missed four games July 5-11 with lower back stiffness. ... Randa was back in the lineup after missing two games with a bruised left elbow.
Copyright 2018 The Associated Press. All rights reserved. This material may not be published, broadcast, rewritten or redistributed. We strive to uphold our values for every story published.