Most people just know her as Margaret Zimmerman.
But to members of the Kiowa tribe, she's "Goi-gua-kee-uah" which means "growing up among the Kiowas."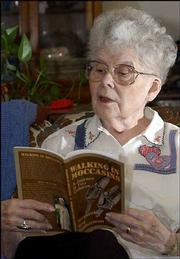 Arapahos have yet another name for her. The 83-year-old is called "Chub-a-ne-bay," which translates as "singing above."
Zimmerman is likely one of the few people with a master's degree in English education from Kansas University to have been bestowed with two American Indian names.
But that's perhaps not so unusual when you learn her life story.
Zimmerman, who lives in Lenexa with her husband of 59 years, the Rev. Jacob Zimmerman, has a rich and long family history that's entwined with the American Indian tribes in Oklahoma.
She grew up in the communities, forming close bonds that have lasted for decades and left deep imprints on her heart.
"It was part of my life. I didn't go to the Indian schools, but I had many good friends that I saw every Sunday in church. They knew their Bibles. Many of them, as I grew up, were people I respected and emulated," she said.
"It was natural. I'm still singing some Indian songs. They continue to come to mind."
Margaret Zimmerman's book, "Walking in Moccasins: A Journey in Two Cultures," is available for $9.99 at Christian Book & Gift, 2108 W. 27th St.The book also can be purchased through Leathers Publishing of Leawood, (888) 888-7696, or by e-mail at
leatherpub@aol.com
.
Taking the 'Jesus Road'
Zimmerman's father, the Rev. Frank Lincoln King, was one of the earliest pioneer missionaries to the Kiowa and Arapaho tribes in southwestern Oklahoma. His career as an American Baptist preacher and Christian missionary stretched from 1898 until 1941, when he finally retired.
His first wife, Mary Ellen Pearce, with whom he had five children, served beside him as a missionary until her death in 1916.
Then King married Zimmerman's mother, Harriet Rogers, who was the daughter of Daniel Rogers, a missionary to the Cherokee tribe and one of the founders of Bacone Indian College in Muskogee, Okla.
Her parents spent most of their lives as missionaries among tribes in Oklahoma, encouraging the people to consider walking down the "Jesus Road" and accepting the Christian concept of God.
Zimmerman lived in American Indian communities until she went off to attend Wheaton College in Illinois. She later received a bachelor's degree from Oklahoma Northeastern State University in Tahlequah.
The Zimmermans, who have three children, attend First Baptist Church of Olathe.
Kinship and love
Margaret Zimmerman is the author of a book, "Walking in Moccasins: A Journey in Two Cultures" (Leathers Publishing), in which she shares her experiences with American Indians.
She credits her KU master's degree adviser, Oscar Haugh, with giving her the idea for writing the book.
"After I wrote my master's thesis, Dr. Haugh said, 'You should put that in your own personal story,'" Zimmerman recalled.
More than 20 years later, she did, beginning work on the book shortly after retiring in 1984.
Her early-life friendships with American Indians provided the foundation for her 1976 master's thesis, "Materials and Resources for Teaching about the Indian Tribes of the Southern Plains."
Zimmerman taught high school English in Olathe for 25 years, first at Olathe North High School, then at Olathe South. Her classes included a unit on American Indians that offered a more nuanced perspective than the mass media's "cowboys and Indians" point of view.
The goals of her book, she said, are threefold: to depict the personal qualities of the Arapahos and Kiowas she has known; to portray their faith journeys from native spirituality to Christianity; and to emphasize their contributions to American society.
"I think that's really why she wrote the book she wanted to say that there is another side to the Indian story," said Jacob Zimmerman, who was his wife's partner on the project.
But writing the book, which took about five years, was just as much about simply sharing memories of places and times that relatively few Americans have had access to.
And it's a way of paying respect and saying thanks to those who have affected her with their friendship.
"You feel a kinship and a love when you grow up with people and you know them. You see beautiful things happening among them," she said.
Copyright 2018 The Lawrence Journal-World. All rights reserved. This material may not be published, broadcast, rewritten or redistributed. We strive to uphold our values for every story published.