LOUDON, N.H. — While his teammates have struggled, Bill Elliott and his crew have locked into something at least when it comes to qualifying.
Elliott continued his recent stretch of strong qualifying runs by winning his third pole of the season Friday at New Hampshire International Speedway.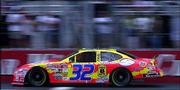 He ran a lap around the flat track at 131.469 mph in a Dodge to take the top starting spot for Sunday's New England 300. It was his sixth top-five effort in the past eight qualifying sessions.
"It's all about teamwork, you never know who's going to beat you or who's going to run good when qualifying starts," Elliott said. "We just kept working with it, getting a little better. We made a lot of changes before qualifying and it turned out to be in a good direction."
Mike Skinner qualified second in a Chevrolet with a lap at 131.175. He was followed by the Ford of Rusty Wallace, Bobby Labonte's Pontiac and Dave Blaney's Ford.
Matt Kenseth qualified sixth. Rookie Ryan Newman was seventh, and Ricky Rudd, Ricky Craven and Bobby Hamilton rounded out the top 10. Defending Winston Cup champion Jeff Gordon, a three-time winner here, qualified 11th.
Jason Leffler won his third straight pole in the NASCAR truck series and seventh of the season when he qualified in the top position. His best lap beat Terry Cook by .131 seconds.
Meanwhile, Elliott won poles at Atlanta and Texas earlier this year, but followed those runs with poor laps that required him to use provisionals to make three straight races.
Since then he's been outside the top five qualifiers only at Pocono, where he started ninth, and at Daytona, where he lined up 14th.
And he's had strong finishes he has eight top-10s this year and has worked his way up to eighth in the Winston Cup standings.
It has helped car owner Ray Evernham sustain what has been a trying season.
Jeremy Mayfield, in his first season with Evernham Motorsports, is 27th in the standings, and last week the car owner shook up the team by going with a committee of crew members to run the car instead of a standard crew chief.
But things couldn't be better for Elliott, in his second season with Evernham since abandoning his role as an owner-driver. Now that Evernham calls the shots, Elliott is free to focus on driving the No. 9.
"Right now I just want to race," Elliott said. "I don't want to worry about commercials and appearances or any of that. I just want to come to the race track and drive the car, and I'm finally able to do that and I'm really enjoying it."
He credited Evernham for lightening his load and allowing him to enjoy the final years of his career.
The 46-year-old Elliott probably will drive only a few more seasons.
"Ray has done a great job, I feel like he's one of the best car owners in the garage area," Elliott said. "He gives us the necessary tools to go race week in and week out, and I've missed that over the last several years trying to run my own deal.
"It's a tough situation, but right now I'm very comfortable with where I'm at and I'm very proud of what my guys have done."
Copyright 2018 The Associated Press. All rights reserved. This material may not be published, broadcast, rewritten or redistributed. We strive to uphold our values for every story published.