Just last week, Abe Carver was in Salem fighting crime and dealing with his baby-switching wife, Lexie.
But Sunday, Carver or James Reynolds, who portrays the character on NBC's "Days of Our Lives" was back in his hometown, Oskaloosa. Reynolds staged the play "Words of Love" to cap Oskaloosa's 101st Old Settlers' Reunion, which ran from Thursday to Sunday. He performed the play with Valerie Wildman, who plays Fay Walker on the daytime soap.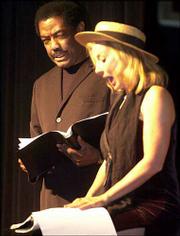 "I've been wanting to do something here for a long time," Reynolds said. "I've been fortunate enough to do things all around the world, but never here, where I'm from."
Reynolds was raised in Oskaloosa, where he lived until the mid-1960s, when he left to join the U.S. Marine Corps. He later returned to Kansas to attend Washburn University in Topeka. He has been playing Carver on "Days" since 1982.
His mother, Dorothy Reynolds, continued to live in the same house until she died in May 2002.
About 350 people came to see the play, which was a benefit for Jefferson County Health Department's Senior Personal Care Services. Many of the people who came to watch the production, a love comedy, weren't starstruck. Some knew Reynolds personally.
Dennis Reiling grew up down the street from Reynolds and attended school with him. He and Reynolds correspond daily through e-mail. Though he notes the talent of his friend, Reynolds isn't a superstar to him, Reiling said.
"It's just Jim," he said. "I'm happy for him. He was always in productions during high school. He always had this dream, and it's nice to see it fulfilled."
For Lacey Hanson, 17, Reynolds is an inspiration.
"I want to be an actress," said Hanson, who will be a senior at Oskaloosa High School. "I think it's so inspiring that someone from a little town like Oskaloosa can leave and make it big."
Reynolds hasn't lived in Kansas for years, but he said he visits about six times a year. He said he was a huge KU basketball fan. His dressing room is decorated with Jayhawk gear, he said, and he catches Bob Davis and Max Falkenstein's radio broadcasts of the games on the Internet if it is not televised. In addition to stopping in at Oskaloosa to see old friends, he also enjoys grabbing a cup of coffee in Lawrence.
"It's good to come back," Reynolds said. "It's a great reminder of certain things. I'm always glad to be back."
Copyright 2018 The Lawrence Journal-World. All rights reserved. This material may not be published, broadcast, rewritten or redistributed. We strive to uphold our values for every story published.