Radio personality Michael Feldman wasted no time tickling the funny bones of his audience Saturday morning.
At the top of the two-hour, live broadcast of "Whad'ya Know?" from the Lied Center, Feldman took pokes at a Kansas University student who was gored during the recent running of the bulls in Pamplona, Spain; the arrest of a Lawrence teenager for allegedly putting lint on a police officer's food at McDonald's; the closing of KU's Museum of Anthropology; and the Episcopal priests in Kansas who say "they will bless two of anything."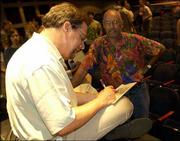 "The Jayhawk statue (on the KU campus) will fly when a virgin graduates," he said, eliciting a roar of laughter from the sold-out crowd.
"(KU basketball coach) Roy Williams walks on water here, but what they don't tell you is that anyone can walk on the Kansas River."
Feldman, host of Public Radio International's "Whad'ya Know?," brought his music-and-quiz show to Lawrence to help Kansas Public Radio celebrate its 50th anniversary. Although he has played in Kansas City, Mo., and Wichita, it was the first time in his 17-year radio career that he had performed in Lawrence.
"Road shows are invigorating," he said after the broadcast. "They give you a charge."
Several Lawrence residents were handpicked by Feldman to make appearances on the program: Stan Herd talked about his crop art projects; The Lonesome Hobos played "Foot-Washin' Baptist," a song written by the late Billy Hunsinger; science writer Rex Buchanan described the geological history of the state; and Jayni Carey, cookbook author and host of Sunflower Broadband Channel 6's "Jayni's Kitchen," enticed Feldman with samples of bean bread, coffee steak and burnt-sugar pie.
Copyright 2018 The Lawrence Journal-World. All rights reserved. This material may not be published, broadcast, rewritten or redistributed. We strive to uphold our values for every story published.