Dearborn, Mich. — Mike McCullough figures he just has to keep doing what he's already done three times to win his first major.
He shot a 5-under 67 Saturday to reach 12-under and take a one-stroke lead into the final round of the Senior Players Championship, the fourth and final Senior PGA Tour major. McCullough is the only player to break 70 in every round.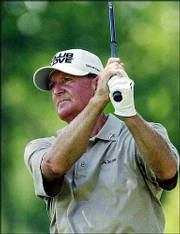 "I would like to shoot four rounds in the 60s, that should do it," McCullough said. "If I can shoot four rounds in the 60s, I will be very happy that the golf course didn't defeat me."
Hubert Green shot a 1-under one day after tying the course record with a 63 and beginning the third round with a three-stroke lead. Green, who will begin today one stroke behind McCullough, knows it wouldn't be wise to just focus on beating McCullough because the TPC of Michigan is susceptible to low scores.
"If I worry about Mike McCullough and he shoots 73, and somebody shoots a 64, we're going to be looking at each other and not making a big check," said Green, who admitted he didn't handle the pressure of being the leader.
Stewart Ginn is alone in third at 8-under after shooting 70.
Two-time champion Raymond Floyd, who had the best day with a 65, is at 7 under along with Doug Tewell, Larry Nelson, and first-round leader Hale Irwin. Irwin hasn't broken par since setting nine-hole and first-round records on Thursday.
Jim Thorpe, at 6 under with Bob Murphy, believes the tournament is still wide open.
"At 6, you're still in this," Thorpe said. "Even if you have a lead late, you can't get too comfortable. If you miss the fairway on 16, 17 or 18, those holes can give you a double-bogey."
McCullough seems to know that.
"I would like to have a two-stroke lead coming into the last tee because that hole is so hard for me," McCullough said. "I've played it well (with pars) three times now, but boy, I'd hate to have to challenge myself there to win the tournament. I'd like to have a cushion."
McCullough, who never won a tournament on the PGA Tour, won the Mexico Senior Classic and the Emerald Coast Classic last year. His best finish this season has been a tie for second at the BellSouth Senior Classic last month and he has three other top-10 finishes.
The 57-year-old McCullough withdrew from the U.S. Senior Open two weeks ago during the first round because of a neck injury and withdrew from the Senior PGA Championship after shooting an 80 on Thursday because he was too frustrated to continue. He finished tied for 19th at The Tradition in April, the first major of the year.
His best finish at a major was second at last year's Tradition.
McCullough has finished in the top 10 in three of the past four Senior Players Championships.
Copyright 2018 The Associated Press. All rights reserved. This material may not be published, broadcast, rewritten or redistributed. We strive to uphold our values for every story published.