Lawrence weathered its hottest day of the year quite well.
Even as temperatures reached the century mark Tuesday at 5 p.m., the city hit the 100-degree mark for the first time in 2002 officials reported only a couple of minor cases of heat-related illness. Lawrence's water treatment plants had no problem keeping up with the demand of a thirsty city. Electricity was also plentiful, even though air conditioners across northeast Kansas were surely putting out cool air at full blast.
"Our facilities are not strained, and in fact, we are responding to our neighboring utilities' requests for additional power," said Karla Olsen, a spokeswoman for Westar Energy.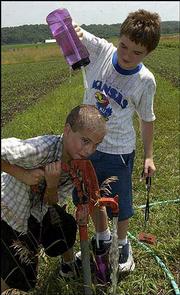 Cooler weather should be on the way. Forecasters expect temperatures to drop into the lower 90s today, and perhaps into the mid-80s on Thursday and Friday.
Tuesday, though, it was hot, hot, hot.
The official high of 100 degrees was 4 degrees warmer than on Monday when the temperature reached 96 degrees the hottest of the year in Lawrence to that time. The heat index a measure of the temperature and relative humidity reached 110 degrees.
That much was apparent at the Community Drop-In Center, 214 W. 10th St., where Lawrence's poor and homeless packed the houses in greater-than-usual numbers to escape blast-furnace conditions outside.
"There's a lot more people here, staying for a lot longer," said Tami Clark, the center's director. "We're trying to provide as much hydration and cool air as we can."
Clark said some people staying at Lawrence's homeless shelters this week had homes but no air conditioning.
"Some people haven't been home in weeks," she said. "They're just trying to survive."
Despite the steamy conditions, some outdoor work had to be done. Lawrence Public Works Director Chuck Soules said a sanitation worker was taken Tuesday morning to Lawrence Memorial Hospital to be treated for dehydration.
"We encourage everybody to take breaks and drink fluids," Soules said. "We provide the fluids for them."
He said the city's 80 sanitation workers were trained to recognize the signs of heat illnesses.
| | | |
| --- | --- | --- |
| | | |
| | Get the latest forecast on Sunflower Broadband Channel 6 every 10 minutes from 5:26 a.m. to 7:46 a.m., or log on to weather.lawrence.com | |
| | | |
The sanitation worker was one of two people admitted Tuesday to LMH for heat problems.
"We're seeing a little heat exhaustion, but no heat stroke," said Dr. Ryan Reeves, an emergency room physician at the hospital.
The city's water treatment plants have been averaging 21 million gallons a day in recent days, Utilities Director Roger Coffey said Tuesday. Past summers have seen demand spike above 23 million gallons a day, back when the city's capacity was about 26 million gallons a day. Recent improvements at the Clinton Lake Water Treatment Plant have increased that capacity to 31.5 million gallons.
"It seems like we've been running along pretty steady," Coffey said.
| | | |
| --- | --- | --- |
| | | |
| | The Salvation Army gives away free fans to people in need. The giveaway is restricted to one fan per person, every other year.To apply for a fan, contact the Salvation Army at 843-4188, or go to the church at 946 N.H. | |
| | | |
"Those two little rains we had last week slowed people down," said Keith Whealy, a water treatment supervisor.
Just the same, officials were looking forward to a cool-down period and warning the public to protect themselves.
"Listen to your body," Reeves said. "If you don't think you should be outside, you shouldn't. If you get excessively thirsty, go in and get a drink."
| | | |
| --- | --- | --- |
| | | |
| | Dr. Ryan Reeves, an emergency room physician at Lawrence Memorial Hospital, offers these tips to protect yourself from the heat:Do outside work in the early morning or in the evening. Avoid working during the hottest part of the day, from 11 a.m. to 4 p.m.If you are active outdoors, rest frequently.Drink lots of fluids, before and during the time outside.Wear protective clothing such as a wide-brimmed hat and sunglasses.More information can be found at http://familydoctor.org/handouts/088.html. | |
| | | |
Copyright 2018 The Lawrence Journal-World. All rights reserved. This material may not be published, broadcast, rewritten or redistributed. We strive to uphold our values for every story published.