You've heard of political fireworks? The Lawrence City Commission is about to make that metaphor more literal.
The commission on Tuesday will discuss the city's fireworks ordinance, the first step in a process that could lead to a ban on private patriotic pyrotechnics around the Fourth of July holiday.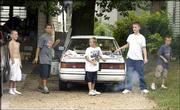 No final decisions will be made Tuesday.
"I think this is just the beginning stage of information-gathering," Mayor Sue Hack said. "But we know, out of fairness to the (fireworks) vendors, we need to make a decision fairly quickly."
The city allows fireworks use three days a year, July 2-4. Sales inside city limits are prohibited, but fireworks can be stored if done in accordance with safety codes.
Last year, a July 4 fire gutted an apartment building at 501 Colo., starting rumblings that fireworks could be banned. During this season, however, the city sponsored fliers, newspaper advertisements and radio spots promoting fireworks safety in the weeks leading to the Fourth of July. One flier urged fireworks safety and encouraged users to be respectful of their neighbors.
There were no incidents this year as destructive as the Colorado Street fire. On Tuesday, however, officials reported one fire had been definitively traced to fireworks use an apartment fire Friday in the 1300 block of Tennessee Street that was started by children using fireworks in their bedroom.
Mark Bradford, deputy chief of Lawrence-Douglas County Fire & Medical, said the fire was extinguished before firefighters arrived. The blaze caused $5,000 worth of damage to the apartment.
Some city officials have suggested a fireworks ban in the city would be practical only if Douglas County commissioners agreed to stop sales in the rural parts of the county.
Douglas County Commission Chairman Jere McElhaney said he hadn't heard any calls for a fireworks ban.
"I've had 100 percent positive feedback that there haven't been any concerns in the rural community," he said. "I've not seen quite the litter in the county that I've seen in the city."
But, he said, "if the city came to the county commission to talk about this, I'll be all ears."
Hack said the city probably would ask for a study session with county commissioners, along with emergency officials. She said any city ban would be harder to accomplish without the county's help.
"It would indeed be difficult, but if it's something the (city) commission decides to do, we'll find a way to work through that," she said.
The city commission meets at 6:35 p.m. Tuesday in City Hall, Sixth and Massachusetts streets.
Copyright 2018 The Lawrence Journal-World. All rights reserved. This material may not be published, broadcast, rewritten or redistributed. We strive to uphold our values for every story published.