Norman, Okla. — Rep. J.C. Watts of Oklahoma, the only black Republican in Congress, said Monday that he would not seek a fifth term this fall, setting up a wide-open race that could help Democrats in their drive to regain control of the House.
Watts, the fourth-ranking member of the House GOP leadership, said he was leaving to spend more time with his wife and three children.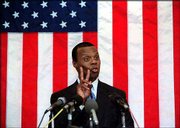 "It has been a wonderful ride. It has been a wonderful journey. Of course, the work of America is never done, but I believe my work in the House of Representatives at this time of my life is completed," Watts said.
Watts, 44, made the announcement in his hometown of Norman, where he was a star quarterback for the University of Oklahoma football team. He said he had no immediate plans, other than to finish his book, "What Color Is a Conservative?"
Watts is the second House Republican leader to announce his retirement since December, following Majority Leader Dick Armey of Texas.
Watts had told fellow Republicans he was tired and needed to make more money for his family. He also occasionally complained that he was not included enough in leadership decisions.
The congressman, a member of the House Armed Services Committee, recently expressed concern that President Bush did not communicate with him about the administration's plan to kill the Crusader artillery system. The $11 billion weapon was to be assembled in Elgin and training conducted at Fort Sill, in Watts' district.
At his news conference, Watts deflected questions about any discontent. He also said he made his decision after discussions with Bush and other party leaders.
"Congressman J.C. Watts has served the people of Oklahoma and the United States with honor and distinction," the president said. "He has been a leader in highlighting the success of faith-based and community-based organizations, and thanks to his efforts, these organizations may soon have additional resources in their fight against abuse, addiction and poverty."
Copyright 2018 The Associated Press. All rights reserved. This material may not be published, broadcast, rewritten or redistributed. We strive to uphold our values for every story published.