ZAMBOANGA, Philippines — All 10 U.S. servicemen aboard a military helicopter that crashed two days ago in the southern Philippines are believed to be dead, an American general said early today.
"We have determined that there is no chance to find survivors," said Brig. Gen. Donald Wurster, head of a U.S. military contingent involved in a counterterrorism exercise in the southern Philippines.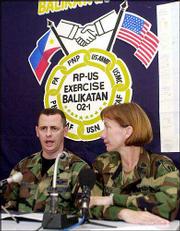 He said the rescue effort had shifted to a recovery mission in the crash site in the Bohol Sea off Negros island.
Officials had held out hope Saturday of a "miracle" because the eight-man crew from Fort Campbell, Ky., and two Air Force pararescuers all were trained in water survival. The MH-47E Chinook went down before dawn Friday after ferrying U.S. special forces and supplies from the southern Philippine city of Zamboanga to nearby Basilan island.
The chopper was one of two returning to an air base on Mactan islet. Witnesses reported it was on fire as it fell and exploded when it hit the water.
The search had extended Saturday to several miles in every direction from the crash site, 2 miles southwest of Apo island, a marine reserve renowned for diving.
Meanwhile, in Fort Campbell, Ky., the Army released identities of the 10 service members missing.
The Army soldiers, all members of the 160th Special Operations Aviation Regiment, were identified as:
Maj. Curtis D. Feistner, 34, South Dakota; Capt. Bartt D. Owens, 30, Ohio; Chief Warrant Officer 2 Jody L. Egnor, 32, Ohio; Staff Sgt. James P. Dorrity, 37, Goldsboro, N.C.; Staff Sgt. Kerry W. Frith, 37, Jamesville, Nev.; Staff Sgt. Bruce A. Rushforth Jr., 35, Massachusetts; Sgt. Jeremy D. Foshee, 25, Pisgah, Ala.; and Spc. Thomas F. Allison, 22, Tacoma, Wash.
The Air Force pararescuemen onboard, assigned to the 353rd Special Operations Group based at Kadena Air Base in Japan, were identified as: Master Sgt. William L. McDaniel II and Staff Sgt. Juan M. Ridout.
Copyright 2018 The Associated Press. All rights reserved. This material may not be published, broadcast, rewritten or redistributed. We strive to uphold our values for every story published.