FORT CAMPBELL, Ky. — The eight Army soldiers presumed dead Friday after their helicopter crashed into the sea in the southern Philippines were members of an elite special forces regiment depicted in the new film "Black Hawk Down."
The 160th Special Operations Aviation Regiment, based at Fort Campbell, slips special forces commandos behind enemy lines aboard Black Hawk and Chinook helicopters. The regiment earned the nickname "Night Stalkers" because of its ability to strike undetected in the darkness.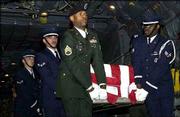 "The 160th has specialized training with night vision and flying in all kinds of weather," said 1st Lt. Marie Hatch, spokeswoman for the 160th. "They were going in to assist in the operation that is going on in the Philippines."
The other two members aboard were Air Force para-rescue jumpers, said Maj. Paul Fitzpatrick, an Army spokesman at Fort Campbell, which is 50 miles north of Nashville, Tenn.
Air crews from the 160th are trained to operate 30 feet above water, at night, using night vision goggles in a hostile environment, according an Army publication.
A 1993 mission in Somalia involving the 160th is the subject of "Black Hawk Down." Eighteen American soldiers died before the mission was aborted.
The regiment was formed in 1981 to focus on low-level, night operations in response to the failed hostage rescue mission in Iran the year before.
The 1,500-member force was first used in hostile conditions in Grenada in 1983 and has since participated in missions around the globe in nations such as Panama, Iraq and Bosnia.
Col. Richard Polczynski, commander of the 160th, said Friday the crew members lived up to the regiment's motto: "Night Stalkers don't quit."
Copyright 2018 The Associated Press. All rights reserved. This material may not be published, broadcast, rewritten or redistributed. We strive to uphold our values for every story published.