Mercury, Nev. — Homeland Security Director Tom Ridge on Wednesday toured the Nevada Test Site and proclaimed afterward that it provides a "sterling" facility to train the United States' anti-terrorism forces.
"It's one thing to hear about it, and to read about it, and it's another thing to see it," Ridge told Sen. Harry Reid, D-Nev., after viewing a mock exercise in which SWAT teams and others overwhelmed squads attempting to take over a nuclear laboratory for its fuel rods.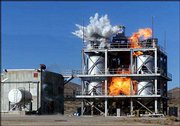 Reid and Gov. Kenny Guinn had invited Ridge to visit the Nevada Test Site, hoping the White House would declare it the National Center for Counter-Terrorism because of its size and accommodations to train emergency crews to deal with radiological, biological, chemical and other weapons of mass destruction.
Ridge stopped short of endorsing that notion, noting that other government facilities also train personnel to fight terrorists in the United States and abroad.
Nonetheless, Ridge said, "I give a sterling endorsement of the facility, and I'll work with Congress, the secretary of Energy and the Department of Defense to integrate what we can here."
The idea of establishing a single anti-terrorism training facility "is a very intriguing option to create," Ridge said. "I'm impressed with this facility. This is the only one with so many dimensions."
The Nevada Test Site, where 928 nuclear detonations occurred from 1951-92, has in recent years been used by the Justice Department and other agencies to train first responders firefighters, paramedics, bomb squad members, hazardous materials experts and others who would arrive at a scene involving exposure to wide-scale lethal weapons.
They practice in full gear, set off explosions and release low levels of radioactive material to add real-life stress to the training exercises.
Funding for the site has increased markedly since the Sept. 11 terrorist attacks an initial $7.5 million immediately after the attacks, an additional $10 million later and, in President Bush's current budget, another $10 million.
The facility, operated by the National Nuclear Security Administration, trains about 3,000 people a year, and hopes with increased funding to train 16,000 people next year.
Copyright 2018 The Lawrence Journal-World. All rights reserved. This material may not be published, broadcast, rewritten or redistributed. We strive to uphold our values for every story published.