Washington — Several Supreme Court justices seemed sympathetic Wednesday to the idea that government can help pay tuition for children at religious schools and stay within constitutional bounds.
"Unless there's an endorsement of religion, I don't see why it matters if (government) money goes to a religious school," said Justice Antonin Scalia.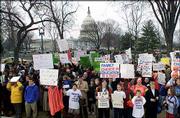 The court's answer, expected by summer, could remap the educational landscape. Numerous states and school districts are awaiting word from the high court about whether there is a way to set up a voucher program that does not violate the constitutional principle of separation of church and state.
The case is the most talked-about on this year's court docket and one of two potential blockbusters the court heard Wednesday. The day's other case asks whether it is still constitutionally acceptable to execute the mentally retarded.
Key to the court's ruling will be the real-world effects of government vouchers like those used in a 6-year-old test program in Cleveland, and whether they treat all children and all parents fairly.
In Cleveland, which has one of the worst-rated public school systems in the country, parents may apply for vouchers of up to $2,250 per child. The money may be used at any of 51 participating schools, all but nine of which are religious. Most are Catholic.
Between 96 percent and 99 percent of children in the Cleveland program attend a religious school. The voucher amounts nearly cover the cost of a church-subsidized education, but do not begin to cover normal tuition at many secular academies.
Secular private schools and suburban public schools are eligible to participate in the program, and the fact that more have not done so is no fault of the voucher program itself, Ohio Assistant Atty. Gen. Judith French argued to the court.
The numbers don't look so out of whack when you consider that parents have other choices aside from vouchers, including sending their children to charter or magnet schools, Justice Sandra Day O'Connor said.
"Why should we not look at all the options open to the parents in having their children educated?" she asked.
Chief Justice William H. Rehnquist and Scalia seemed to support the voucher plan. Justice Clarence Thomas is already on record as supporting voucher-like programs.
Justice Sandra Day O'Connor's vote is considered crucial in this case.
Death penalty challenge
When the Supreme Court last considered executions of the mentally retarded, only two states banned the practice. Now, 18 states prohibit it, and that math will weigh on the court as it reconsiders the issue and the fate of a condemned man with an IQ of 59.
The court debated Wednesday how much public standards have changed since 1989, when the court upheld those executions on a 5-4 vote.
O'Connor wrote then that there was "insufficient evidence of a national consensus" against the executions to determine that they were unconstitutionally cruel and unusual punishment.
That question has been settled, the lawyer for convicted Virginia killer Daryl Renard Atkins told the court.
"What is your definition of consensus?" asked Rehnquist, a question repeated later by other court members. "How many states out of the 50 do you need for a consensus?"
Attorney James Ellis didn't provide a number, but he said there are clear moral concerns about putting to death mentally retarded killers. They should be punished, just not by death, he said.
Twelve states do not execute any murderers and 18 others don't use their death penalties for the retarded.
"That's a super majority," said Justice Ruth Bader Ginsburg.
Atkins has an IQ of 59, considered mildly mentally retarded. People who test 70 or below generally are considered mentally retarded.
There are more than 3,700 people on death row. None of the attorneys could say Wednesday how many of those might be retarded. Other groups have said anywhere from 10 percent to 25 percent of death row inmates could have low IQs.
Copyright 2018 The Associated Press. All rights reserved. This material may not be published, broadcast, rewritten or redistributed. We strive to uphold our values for every story published.