Physical inactivity is a challenge for many Americans, especially older adults. Seniors who do exercise tend to select walking or other low-impact activities.
But Andrew Tsubaki has an alternative that he'd like older adults in Lawrence to consider: Ki-Aikido, a Japanese form of martial arts.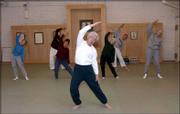 According to Tsubaki, head of the Kansas Ki Society, Ki-Aikido aims to attain coordination between mind and body through noncombative physical training.
The movements are circular and flowing, supported by timing, rhythm of action and Ki universal force or energy. Because Ki-Aikido isn't heavily dependent upon muscle strength, it can be easily practiced by men or women, he said.
In January, Tsubaki, 70, started offering a course called Ki-Aikido for Elders at the Kansas Ki Society's dojo, or place of practice, 619 E. Eighth St.
"A lot of (older) people walk, but they don't do anything beyond that," said Tsubaki, who was a theater and film professor at Kansas University from 1968 to 2000. "I thought about sharing Ki-Aikido with my friends from KU. We do a lot of physical conditioning, stimulate their sense of balance and mobility."
Tsubaki, who began his training in Ki-Aikido 22 years ago, co-founded the Kansas Ki Society in 1995. He holds a fourth-level black belt in Aikido and is one level below the top rank in Ki practice.
He and his assistants offer a variety of Ki-Aikido classes for adults and young people. About 30 students practice at the dojo, as well as about 15 members of the KU Ki-Aikido Club who visit occasionally.
Everyone calls the gentle, soft-spoken Tsubaki "sensei" a Japanese honorific title that means "the one born ahead of you," or, simply, teacher.
The way Tsubaki teaches Ki-Aikido to older adults emphasizes conditioning instead of the martial arts aspects. Students don't need any training or equipment, aside from comfortable workout wear.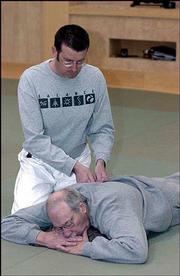 Ki-Aikido for Elders incorporates stretching exercises, simple dance movements, deep breathing, meditation and even singing in Japanese. Each session ends with Ki-atsu, which is a massaging art intended to relax muscles and aid healthful body function.
In a recent class session, students practiced synchronized movements involving paper fans and Japanese poetry, swung wooden swords called bokken and did a range of stretching exercises while counting in Japanese.
Class participants are enthusiastic about Ki-Aikido.
"It loosens up an awful lot of muscles that were dormant for years. We even found some new ones, and Andrew is adept at exercising them," said Jed Davis, a retired KU professor of theater. "It does things for you mentally; it keeps you alert. We tend to get sedentary and too comfortable."
Richard Angeletti, a retired KU professor of piano, has seen an improvement in his conditioning since he started the class.
"I just am more flexible," he said. "I didn't think I could do some of the things that we're doing. I always feel very relaxed and loose when I leave."
Jan Shumway finds the class to be a challenge.
"I think it's wonderful. You have to think, in addition to moving body parts and speaking in Japanese," she said. "I've learned how to focus, how the body is balanced and how to concentrate on the Ki. I can do things I couldn't do six weeks ago. It's very valuable."
Copyright 2018 The Lawrence Journal-World. All rights reserved. This material may not be published, broadcast, rewritten or redistributed. We strive to uphold our values for every story published.