Kansas University student Lindell Pearson only sees his long-distance girlfriend two or three times a month. So he knew he would be in serious hot water if he didn't get her anything for their first Valentine's Day together.
"I think she'd probably flip her lid," Pearson said Thursday while searching for the perfect card at The Palace, Eighth and Massachusetts streets.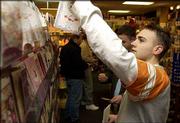 Pearson and his sweetheart, who lives in Chicago, reunited Thursday night for dinner in Kansas City. He had already sent her flowers at work and planned to give her a bracelet at their evening rendezvous.
Pearson and other last-minute shoppers packed Lawrence shops Thursday, hunting for candy, flowers, stuffed animals, cards, jewelry and lingerie.
Monica Ruiz, Lawrence, was scanning a rack of Valentine's Day cards on Thursday afternoon at Russell Stover Candies, 1300 W. 23rd St. She'd wrapped up most of her Valentine's Day shopping days before but hadn't been able to pick up a card for her mom because she'd been with her the whole time.
"It's hard to find a card for your mom," she said. "They're all like love this and love that."
Juan Barranco of rural Topeka had a sweeter gift in mind for his wife.
"She loves chocolate," Barranco said Thursday.
He was browsing through Russell Stover's aisles of magenta and crimson boxes, some shaped like hearts, for the tastiest-looking treats he could find.
KU student Josh Adams spotted a man selling roses Thursday afternoon from the back of a truck on 23rd Street and pulled in to snatch up half a dozen red roses.
"They're for my girl. I know she likes flowers," he said. "I'm taking her out to dinner, and I made her a Valentine."
Men weren't the only ones purchasing flowers for their heartthrobs. Samantha Sanchez, Lawrence, said her husband wasn't too macho to enjoy a nice arrangement of roses.
"He's a romantic," she said.
Copyright 2018 The Lawrence Journal-World. All rights reserved. This material may not be published, broadcast, rewritten or redistributed. We strive to uphold our values for every story published.