About this time last year, a proliferation of small, white, fluffy pups began flooding local pet-grooming shops.
A Bichon Frise had been named top dog at the prestigious Westminster Kennel Club Dog Show, and the breed's popularity catapulted.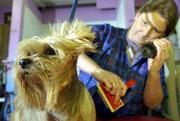 "We've probably doubled or tripled the number of Bichons we've seen," said Liz DuMortier, a professional pet stylist at Christal K-9, 3109 W. Sixth St.
This year's show, which took place Monday and Tuesday in New York, is bound to bark up a few new fads fads that Lawrence's half dozen or so "canine cosmetology" shops will begin seeing in the coming weeks.
"People see new dogs or they think the dog on TV is absolutely gorgeous, so they want one," said Pam Dunn, owner of Accent Pet Grooming, 923 N. Second St. "We'll see the increase in puppies in the next two months from the show."
Shop owners say it doesn't take a nationally televised dog show to inspire die-hard dog owners to primp their pups. Dog groomers are busy all year round especially during summers and holidays shampooing, conditioning, trimming, fluffing and adorning man's best friend.
Dunn decks out dogs in bows and bandanas inspired by seasons or special occasions.
"We even have fancy little poodles that get their nails done," she said. "Sometimes, groomers are nothing but people who love dogs who just want to play with them like Barbie dolls."
When it comes to showing dogs, though, Lawrence residents Cindy and Mike Well aren't playing around. The couple's Rhodesian Ridgeback won best in breed honors and was named first in the hound group Tuesday at the 126th Westminster Kennel Club Dog Show.
The Wells sent their Ridgeback, Champion Wetu of Kalahari, known around the house as "Woody," to New York with a professional handler and were pleasantly surprised when they saw their dog singled out from the rest of the hounds on TV Tuesday night.
| | | |
| --- | --- | --- |
| | | |
| | Check out the Pets page every Saturday in the Journal-World's Lawrence & State Section. | |
| | | |
"You're always surprised because you can't go into anything like that thinking you have a good chance. Anything can happen," Cindy Well said. "It's a big honor."
Copyright 2018 The Lawrence Journal-World. All rights reserved. This material may not be published, broadcast, rewritten or redistributed. We strive to uphold our values for every story published.