MURRAY, UTAH — Ask coach Ben Smith who will start in goal for the U.S. women's hockey team, and he's likely to reply, "Who started last game?"
Ask who would start in a potential gold medal matchup with Canada, and his response is the same for now.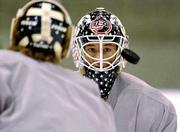 "We stick to a rotation," he said, "so, that keeps us from losing any more hair or any more sleep."
Smith has been rotating his two goalies, Sarah Tueting and Sara DeCosta, for just about all of the team's pre-Olympic tour. That's worked out well so far: The Americans went 31-0 in exhibitions leading up to the games.
"I don't see any difference between them," Smith said Monday following the team's final practice before the Olympic tournament opens. "To me, they're interchangeable parts. That's one of the nice things about our team."
Tueting started in an exhibition game Thursday night against Russia, which means DeCosta is up for the Americans' opening game against Germany today.
"He said, 'I'm going to go with the rotation, until further notice,"' DeCosta said. "But you can't try to figure coach Smith out. It's pretty much impossible."
Smith used essentially the same approach in Nagano in 1998, then switched a few days before the gold medal game to give Tueting, who started the semifinal, the start in the final against Canada. He thought they'd be better off with DeCosta off the bench.
"If it's the gold medal game, I'm sure he's not going to go with the rotation. He's going to go with whom he wants," DeCosta said. "But if I obsess about it for two weeks, it will take all the fun out of it."
Even before Christmas, Tueting was looking at the schedule and counting off the games "He starts me, he starts me not" before the Feb. 21 final. From there, it became clear that the gold medal game would be DeCosta's.
"It's hard not to think about it. It's hard not to count the games and realize if he sticks with the rotation, I won't be playing," Tueting said.
"I want to play. I didn't train for three years to ride the pine. But if Sara plays, I'll be 100 percent behind her, like she was for me in '98."
Copyright 2018 The Associated Press. All rights reserved. This material may not be published, broadcast, rewritten or redistributed. We strive to uphold our values for every story published.