There were dramatic firsts and lasts.
There were some pitfalls and some pit bulls. Dead birds mattered more.
Doors swung open. Doors swung shut.
That was 2002 in Lawrence, a year made memorable for reasons wonderful and wicked.
Grant School closed its doors to students for the last time in 2002. But the doors of the nearly new Douglas County Jail swung open for the hoosegow's first escapee.
The year delivered two of the most appalling crimes in recent Lawrence history: The double homicide of an elderly couple in their east Lawrence home, and the brutal death of a developmentally disabled boy on the Kansas Turnpike east of town.
West Nile Virus made its first documented appearance in Douglas County, found in a bird carcass.
And school officials struggled to come up with a plan for the future of the school district's facilities.
The wondrous?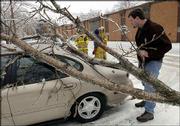 The Jayhawk men's basketball squad, which went to the Final Four.
January with its awe-inspiring, power-line rending winter ferocity.
The city's tribute to long-overlooked hometown author Langston Hughes, which attracted thousands.



Bluegrass pioneers Jim and Jesse McReynolds and their band picking, strumming and yodeling at the first Free State Music Festival at the Lawrence Holidome.
As our way of saying Happy New Year to all our readers, Journal-World reporters and editors spent several hours combing through the archives. Then we summarized the year's many news events into a couple of pages of words and pictures meant to jog the memories of those who might need or enjoy the jog.
Happy 2003!
Copyright 2018 The Lawrence Journal-World. All rights reserved. This material may not be published, broadcast, rewritten or redistributed. We strive to uphold our values for every story published.