Memphis, Tenn. — Seventh-ranked Illinois got an unpleasant surprise in the second half.
"We lost the game in the first five minutes of the second half," Illinois coach Bill Self said after the Fighting Illini fell, 77-74, to Memphis on Saturday.
Illinois wasn't the only Big Ten Conference team to struggle Saturday, though, as Temple bounced No. 10 Indiana, 71-64, in Philadelphia.
"I'll take the blame for this loss," said Indiana coach Mike Davis, who is awaiting an expected lengthy suspension. "I took a pretty good basketball team and screwed them up the last two weeks."
Davis is expected to be suspended Monday by the Big Ten Conference for charging onto the court and confronting an official in the final second of a loss to Kentucky on Dec. 21.
Davis is waiting for the Big Ten to make a decision.
"I wish they would just come down and say something," Davis said. "Then we can move on.
"One of the players asked me, 'Coach, did you kill somebody. I understand what I did was wrong. It was out-of-character and I embarrassed the program, but am I the first coach to do this?"
After going to the dressing room trailing 37-31, Memphis returned to hit three straight three-pointers and go up 40-37. At the mid-point, Memphis led by eight points, 58-50.
The Tigers (6-2) were up by eight points three times in the second half, but Illinois closed in the final minutes.
Illinois (8-1) had a chance to tie it, but Dee Brown's three-point attempt fell short with 2 seconds left. Brown, the team's freshman standout, had 19 points for the game.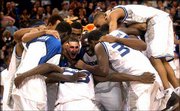 "They outscored us 10 points or so in the first four or five minutes of the second half and then they controlled the game the rest of the way," Self said.
Chris Massie, in his first game of the season, scored 13 points and had 10 of his 12 rebounds for Memphis in the second period. He was academically ineligible for the first seven games.
"Massie was the best player in the game by far and he totally dominated the game," Self said. "We were fortunate he only played 17 minutes."
Massie declined comment after the game, but Memphis coach John Calipari said he got just what he was expecting from the 6-foot-9 senior.
"Chris Massie gives you what you need," Calipari said.
The game was the first this season with Memphis at full strength. The Tigers have been struggling since midway through last season with injuries and players ruled ineligible for academic or disciplinary reasons.
"You finally get a chance to see our full team, the team I kept telling you I liked," Calipari said. "I kept saying to everybody, 'I like my team. I like my team.' We've got three better wins than we did maybe all of last year already -- Mississippi, Syracuse and Illinois."
No. 2 Pittsburgh 65, George Mason 41
Pittsburgh -- Brandin Knight's playmaking led Pittsburgh on a 15-4 run just before halftime and the Panthers cruised. Jaron Brown scored 13 points as Pittsburgh (9-0) matched its best start since the 1987-88 season, the last time it was ranked No. 2. This is the Panthers' best start in coach Ben Howland's four seasons.
No. 4 Arizona 95, Davidson 69
Tucson, Ariz. -- Salim Stoudamire scored a season-high 23 points and Arizona ran away from Davidson in the second half in the first round of the Fiesta Bowl Classic. Arizona (6-1), playing for the first time since being knocked from the No. 1 spot with a 66-65 loss at LSU last Saturday, advanced to face Boston University for the tournament championship Monday night. Boston University (5-5) beat Florida State 84-69.
No. 6 Connecticut 93, Central Connecticut 65
Hartford, Conn. -- Ben Gordon scored 24 points and Emeka Okafor added 17 for the Huskies at the Hartford Civic Center. The game marked the first matchup between UConn coach Jim Calhoun and former longtime assistant Howie Dickenman, who took over at Central, his alma mater, before the 1996-97 season. The Huskies lead the series 11-0. Okafor also had 11 rebounds and accounted for eight of 14 blocks by UConn (8-0). The Blue Devils (3-4) couldn't slow down the Huskies' break and had no answer for 6-foot-9 Okafor.
Temple 71,
No. 10 Indiana 64
Philadelphia -- Alex Wesby and Maurice Collins each hit two free throws in the final 21 seconds to lead Temple. Keith Butler's offensive rebound led to two free throws by Collins to put Temple ahead 67-63 with 21.4 seconds to go. Bracey Wright missed an off-balance three-pointer with five seconds left, and the Owls got the rebound. Wesby made two free throws with 3.4 seconds left to seal the win. The Owls (2-6) were off to the worst start in program history. Indiana (8-2) has now lost two in a row after winning its first eight.
No. 11 Oregon 108,
UC Riverside 67
Eugene, Ore. -- Luke Ridnour had 24 points and Luke Jackson added 20 as Oregon beat overmatched UC Riverside for its school record-tying 23rd straight home victory. Robert Johnson added 12 points and 12 rebounds for Oregon (9-1), which opens Pacific-10 play on Thursday night against No. 4 Arizona. Nate Carter and Kevin Butler each had 14 points for UC Riverside (1-5), which dropped its third straight.
No. 12 Florida 99, Bethune-Cookman 64
Gainesville, Fla. -- Matt Walsh hit seven three-pointers and finished with 29 points to lead Florida. Anthony Roberson added 22 points for Florida (10-2). The Gators have won 35 consecutive home games against nonconference opponents and improved to 28-2 in December over the past three seasons.
No. 13 Marquette 105, Grambling State 74
Milwaukee -- Robert Jackson scored a season-high 26 points and Dwyane Wade had 23 as Marquette won for the 23rd straight time at home. Sophomore Todd Townsend added a career-high 16 points for the Golden Eagles (8-1).
No. 15 Michigan State 76, Jacksonville State 52
East Lansing, Mich. -- Chris Hill had 14 points and five assists in Michigan State's easy victory over Jacksonville State. The Spartans, playing their first game in a week, won their sixth straight to improve to 8-2. The Gamecocks (6-3) lost their second in a row. Kelvin Torbert and Aloysius Anagonye added 13 points apiece for Michigan State, and Alan Anderson had 10.
Iowa 67, No. 20 Tulsa 63
Tulsa, Okla. -- Chauncey Leslie's reverse layup with 52 seconds left gave Iowa its first lead, and the Hawkeyes overcame an 11-point second-half deficit to win. Jared Reiner made three free throws in the final 10 seconds to seal the victory for Iowa (8-2). Leslie finished with 21 points, his fifth 20-point game this season. Kevin Johnson had 23 points to lead the Golden Hurricane (7-2).
No. 21 Xavier 84, Eastern Kentucky 60
Cincinnati -- Romain Sato scored 15 of his 23 points in the first half as Xavier beat Eastern Kentucky. Xavier (8-2) went the last three minutes of the first half without David West, who got poked in the eye.
No. 22 North Carolina 63, St. John's 59
New York -- Rashad McCants scored 21 points, including the clinching free throws with 5.6 seconds to play in the consolation game of the Holiday Festival to match last season's victory total. The Tar Heels (8-3) played their first full game without freshman center Sean May, who will miss eight-to-10 weeks with a broken foot.
No. 24 LSU 74,
Tulane 62
New Orleans -- Darrel Mitchell came off the bench to score 12 points for LSU at the Sugar Bowl Classic. LSU (8-1) showed no signs of a let down after beating then-No. 1 Arizona 66-65 in its last game, taking the lead in the first half and never relinquishing it. Tulane (5-6) scored 197 points in its previous two games, but struggled against the Tigers' defense.
No. 25 Wake Forest 104, North Carolina A&T; 64
Winston-Salem, N.C. -- Vytas Danelius scored 18 points and Josh Howard added 17 to lead Wake Forest. Justin Gray and Eric Williams each scored 13 points for the Demon Deacons (7-0), who are off to one of their best starts in the last decade. Wake Forest started the season 13-0 in 1996-97 and 12-0 in 2000-01.
Copyright 2017 The Associated Press. All rights reserved. This material may not be published, broadcast, rewritten or redistributed. We strive to uphold our values for every story published.