Nairobi, Kenya — Veteran politician Mwai Kibaki and his opposition alliance have won a landslide victory in Kenyan elections, breaking the ruling party's 39-year grip on power, according to figures from the Institute for Education in Democracy, an independent monitoring body. Final official results were expected later today.
With most of the votes counted the 71-year old economist, leader of the National Rainbow Coalition, had a 33 percentage point lead over Uhuru Kenyatta, candidate for the Kenya African National Union, or KANU -- the party that has ruled this East African nation since independence from Britain in 1963, the institute said.
The institute said 5,062,079 votes had been counted by 7 a.m. today, and Kibaki had tallied 3,157,025 votes to Kenyatta's 1,493,252.
The international donor-funded institute, which is part of an umbrella of Kenyan organizations monitoring the election, said the average turnout was 56 percent. Some 10.5 million Kenyans had registered to vote for president, 210 members of parliament and 2,104 local councilors at 18,366 polling stations around the country.
The opposition alliance, dubbed NARC, had captured 116 of 174 parliamentary constituencies counted, compared to KANU's 42, the institute said. The other seats were won by smaller parties. Kenya has 210 parliamentary constituencies.
Earlier today, the Electoral Commission had Kibaki leading by nearly a 2-to-1 vote margin. Based on tallies from 127 constituencies, Kibaki received 2,265,815 votes, compared with Kenyatta's 1,142,013, the commission said. NARC had garnered 83 seats in parliament to KANU's 33.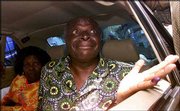 Kenyatta was hand-picked by President Daniel arap Moi, who has ruled Kenya for 24 years and is constitutionally obliged to step down at the end of his current five year term.
Kibaki, a leading opposition figure since multiparty politics were reintroduced in 1991, was Moi's vice president from 1978 to 1988. Kibaki was also Kenya's longest-serving finance minister from 1969 to 1982.
Copyright 2018 The Associated Press. All rights reserved. This material may not be published, broadcast, rewritten or redistributed. We strive to uphold our values for every story published.