New Orleans — Mario Austin didn't have his usual game, but he had just enough.
Austin scored 18 points as No. 16 Mississippi State shocked No. 5 Oklahoma, 54-45, Saturday in the Sugar Bowl Classic.
"Down the stretch, I came up with big baskets for our team," said Austin, who was held below his 26-point average for the first time since Dec. 10 when the NCAA cleared him to play.
Mississippi State (8-1) shot 36 percent from the field (18-of-50) and was just 3-of-13 from three-point range, but the Bulldogs made 15-of-19 from the free-throw line to stay ahead.
Oklahoma (6-2), had won its six games by an average of 23.7 points, but shot a dismal 31 percent (17-of-54) and hit just 7-of-24 from three-point range.
"They're probably one of the best defensive teams we've played against," Oklahoma's Hollis Price said.
Mississippi State has not lost since dropping the season opener.
Texas Tech 99, Minnesota 89, OT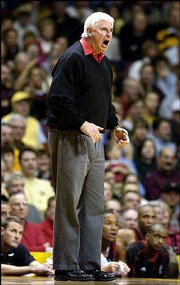 Minneapolis -- Robert Tomaszek scored a career-high 26 points and grabbed 16 rebounds and coach Bob Knight got career victory No. 795.
The game appeared to be over with Texas Tech up 10 points with 2:15 to play in regulation. But Minnesota stole an inbounds pass and Steve Esselink hit a three-pointer to start a 12-2 Gopher run to close out regulation.
Moe Hargrow's layup cut the lead to three with 1:13 left and Rick Rickert's three-pointer tied the game at 74 with 32.4 seconds to play.
Andre Emmett, coming off back-to-back 31-point games, added 24 points and Kasib Powell had 16 points, eight rebounds and six assists for Texas Tech.
It was Knight's first appearance in a Big Ten arena since being fired from Indiana in 2000 for what the university called a "pattern of unacceptable behavior." He was booed by a season-high crowd of 14,156 at Williams Arena.
Colorado 76, Charlotte 74
Charlotte, N.C. -- James Wright made a pair of free throws with 10 seconds left as Colorado held on in the Pepsi Classic. Charlotte's Demon Brown missed a three-pointer as time ran out, giving the Buffaloes (7-3) their fourth straight win.
Texas A&M; 65, Mississippi Valley St. 56
Santa Clara, Calif. -- Antoine Wright scored 14 points and grabbed 10 rebounds as Texas A&M; claimed the consolation championship of the Cable Car Classic. Andy Slocum added 10 points and 11 rebounds for the Aggies (7-3), who were also consolation champs in their only other appearance in the tournament three years ago.
Arizona State 75, Nebraska 63
Tempe, Ariz. -- Ike Diogu scored 21 points and neutralized Nebraska's strength inside as Arizona State beat the Cornhuskers to win its holiday tournament for the 11th time in 14 years. Tommy Smith had a season-high 16 points.
Copyright 2018 The Associated Press. All rights reserved. This material may not be published, broadcast, rewritten or redistributed. We strive to uphold our values for every story published.