New York — Despite bustling stores and malls during the last weekend before Christmas, retailers remained anxious and uncertain after a hoped-for sales bonanza failed to materialize.
Many storeowners disappointed by consumers' cautious buying are now looking with some desperation to last-minute shoppers and post-Christmas bargain hunters for some relief in what has been a difficult holiday season.
At K-B Toys Inc., "we are happy that we are holding ground, but we were really hoping for a higher increase" during the weekend, spokesman John Reilly said Sunday.
Analysts said other merchants had a similar experience.
"It was a solid weekend, but retailers needed a spectacular weekend," said C. Britt Beemer, chairman of America's Research Group. "It was what I expected, but not what I hoped."
Kurt Barnard, president of Barnard's Retail Trend Report, believes sales at stores that have been open at least a year, known as same-store sales, could fall below his already reduced 2 percent forecast. Same-store sales are considered the best indicator of a retailer's health.
"The season is reflecting great spending caution and could be the weakest in a dozen years," Barnard said.
Retailers had a good start to the season with a better-than-expected sales during the Thanksgiving weekend, but sales subsequently were surprisingly weak. Analysts say consumers have cut back on their spending because of worries about job security and the economy's uncertain recovery.
Shoppers were searching for the best price, and retailers were accommodating them with two-for-one specials and other deep discounts.
At Sears, Roebuck and Co., the company offered a 10 percent discount on nearly everything in the store from 7 a.m. to 10 a.m on Saturday. Gloves and other cold weather merchandise, as well as digital cameras and jewelry did well, according to Ted McDougal, a company spokesman.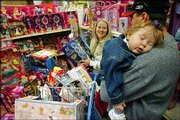 Still, business over the weekend was in line with the company's modest holiday expectations, which is for a mid-single-digit sales decline.
Shoppers interviewed this weekend liked the lower prices.
"I guess I am looking for more bargains than normal," said Leon Fenhaus, who found diamond jewelry discounted up to 50 percent at the Empire Mall in Sioux Falls, S.D.
Ronda Golden, from Yukon, Okla., who began her holiday shopping right after Thanksgiving, said she should have waited for a better price.
"I could have gotten a CD burner I bought for my daughter for half of what I paid," said Golden, who was shopping at the Penn Square Mall in Oklahoma City.
But the heavy markdowns might take a toll on retailers' earnings, an especially painful result, because many merchants hope to bring in half their annual profits during the holidays.
Copyright 2018 The Associated Press. All rights reserved. This material may not be published, broadcast, rewritten or redistributed. We strive to uphold our values for every story published.