Washington — President Bush said Sen. Trent Lott's endorsement of half-century-old segregationist politics "is offensive and it is wrong," orchestrating a partywide bid Thursday to defuse the controversy that threatens Lott's leadership post and Bush's own political prospects.
"He has apologized, and rightly so," said the president, drawing a lengthy standing ovation from a multiracial crowd in Philadelphia.
Lott's office, given advance notice of Bush's plans, quickly issued a statement embracing the rebuke.
"Senator Lott agrees with President Bush that his words were wrong and he is sorry. He repudiates segregation because it is immoral," said Lott spokesman Ron Bonjean.
Bush's spokesman said Lott should not resign as the Senate Republican leader, but the Mississippi lawmaker's fate remained uncertain.
Democrats said he should step down or be censured, and they dug into Lott's past for more fodder. Even Republicans balanced their shows of public support with private words of anger and frustration.
Senior Republicans, including Bush's top advisers, said Lott must do more to repent.
"I think he has to have a full-blown press conference with an opening description of his absolute outright hostility to discrimination in any form," Sen. John McCain, R-Ariz., said on CNN.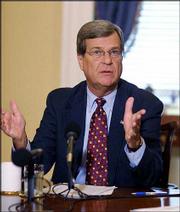 Lott's troubles began with remarks last week at an event marking Sen. Strom Thurmond's 100th birthday. Lott said Mississippians were proud to have voted for Thurmond in 1948, when the South Carolina politician was running for president as a staunch segregationist.
"And if the rest of the country had followed our lead, we wouldn't have had all these problems over all these years, either," Lott said.
On Monday, he apologized in a short statement for his "poor choice of words."
When that did not stem the criticism, he apologized again Wednesday, saying his words were "terrible" and "insensitive."
As the controversy grew over time, Bush and his aides declined to criticize Lott, hoping the issue would fade without the president taking the politically risky step of getting involved.
But the White House team determined the flap threatened to undermine Bush's ability to increase the GOP's paltry support among black voters. Bush received just 9 percent of the black vote in 2000.
Copyright 2018 The Associated Press. All rights reserved. This material may not be published, broadcast, rewritten or redistributed. We strive to uphold our values for every story published.