Kansas City, Mo. — The most hotly contested postseason bowl game may not be Kansas State-Arizona State. At least that's the implication left by Wildcats' coach Bill Snyder.
Asked on Monday if his Holiday Bowl opponent reminded him of anyone in the Big 12 Conference, Snyder mentioned only Baylor and Missouri, two also-rans the Wildcats clobbered by a combined score of 82-10.
"Their offense has some similarities to Baylor," Snyder said. "Their defense has some similarity to the University of Missouri. And some things they do transcend probably every team in our conference. But they're more like those two in regard to offense and defense."
The Wildcats beat Baylor 44-10 and closed out their regular season with a 38-0 shutout of Missouri, leaving them 10-2, ranked No. 8 in the BCS standings and the highest-ranked team not picked to play in a BCS bowl.
Most signs point to a mismatch against unranked Arizona State, which lost three of its last four to finish 8-5.
Judging by their two common opponents also seems to give Kansas State the edge. Arizona State lost to Nebraska 48-10, while the Wildcats pounded the Huskers 49-13. Kansas State beat Southern Cal 27-20, and Southern Cal beat Arizona State 34-13.
In addition, Kansas State ended the regular season on perhaps its hottest roll of the 15-year Snyder era, swamping their last five opponents by a combined score of 253-30.
While he won't say this is his best Kansas State team, Snyder does not deny it's about the hottest.
"I try to answer it this way - I think this team probably has played in this stretch as close to its capabilities as any football team I've ever coached," Synder said.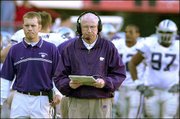 The Wildcats are 17 1/2-point favorites.
One worry for the Wildcats may be the Sun Devils' passing game. Colorado hit several long passes in handing Kansas State one of its two losses, and Arizona State quarterback Andrew Walter has thrown for 3,584 yards, with 26 touchdowns and 14 interceptions.
"They have the ability to throw the ball around and they do," Snyder said. "They have the 10th-ranked pass offense in the United States. They know what they're doing."
Another worry may be the long layoff between the final regular-season game against Missouri, played Nov. 23, and the Holiday Bowl on Dec. 27.
Does Snyder fear the Wildcats could lose their edge against ASU?
"Not necessarily, no," Snyder said. "You just have to understand it's a period of time that you need to make the most of and a period of time when we needed just to rest, our players and to a degree our coaches. They needed some time off. They needed to ... get away from the constant intensity of preparation and become a little bit fresher in regard to their approach."
Copyright 2018 The Associated Press. All rights reserved. This material may not be published, broadcast, rewritten or redistributed. We strive to uphold our values for every story published.