Los Angeles — Utah Jazz center Greg Ostertag was ejected for arguing a non-call in the first quarter against the Los Angeles Lakers on Sunday night.
Six minutes later, Jazz coach Jerry Sloan also was tossed.
Ostertag, a Kansas University product, and Lakers center Shaquille O'Neal got tied up and hooked arms under Utah's basket two minutes in. Believing O'Neal should have been called for a foul, Ostertag shouted at referee Derrick Stafford, and Jazz teammate Matt Harpring tried to restrain him.
Ostertag fought off Harpring's hold and kept shouting as Stafford called him for a technical. Ostertag charged at Stafford, who called him for a second technical. Sloan came out on the floor as Ostertag flailed his arms trying to get away from the grip of his teammates.
Stafford then ejected Ostertag, who kicked a pile of white towels near the Jazz bench as he stormed off the court. He also yanked a black Lakers banner that covered the tunnel to the locker room, but failed to pull it down.
Sloan was ejected at 4:12 after directing a running commentary toward Stafford.
"I thought Greg got hammered on the shot and there was no call on it. Obviously, he was upset," Sloan said. "I sat there and got a little more upset when I thought about it. A lot of times the team is at a disadvantage because of me because I fight harder than I should."
On Monday, the NBA fined Ostertag $7,500 because of the incident.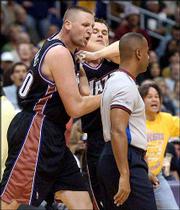 O'Neal and Ostertag have a history. In November 1997, O'Neal slapped Ostertag during a morning shootaround, was fined $10,000 and suspended for one game.
Sonics' Lewis fined also
Also on Monday, Seattle forward Rashard Lewis was suspended for one game without pay. Lewis was penalized for shoving a fist in the face of Miami's Travis Best with 6:34 left during Seattle's 100-71 victory against the visiting Heat on Saturday.
Copyright 2017 The Associated Press. All rights reserved. This material may not be published, broadcast, rewritten or redistributed. We strive to uphold our values for every story published.