Denver — San Francisco manager Dusty Baker is no longer surprised at Barry Bonds' impressive feats.
Bonds homered three times Tuesday night, including the third-longest home run at Coors Field, as the Giants beat the Colorado Rockies 7-4.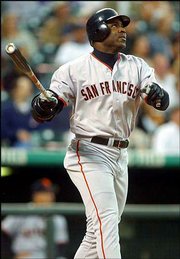 "You are past amazed. You accept it," Baker said. "When you see greatness you don't really get amazed after a while."
It was the fourth three-homer game of Bonds' career and gave him 38 homers this year and 605 in his career.
"At this stage of my game there's no personal records that are really that important to me," Bonds said. "You don't really want to think about certain things because they may not end up the way you want it all the time."
With a chance to tie the major league record for homers in a game, Bonds doubled against Todd Jones (1-4) in San Francisco's three-run ninth, hitting a flare to left field.
Rich Aurilia had an RBI single and Jeff Kent hit a two-run double in the inning for the Giants, who began the day 2 1/2 games behind Los Angeles in the NL wild-card race.
Bonds finished 4-for-4 to increase his NL-leading batting average to .366 as he seeks the first batting title of his career. Bonds increased his lead on Larry Walker, who is hitting .357.
"Everybody knows how good Barry is and our pitchers are aware of it," said Toby Harrah, who served as Colorado manager while Clint Hurdle attended to family matters. "They're sure as heck not trying to give up home runs."
Kent homered and drove in three runs for the Giants. Felix Rodriguez (5-6) worked 1 1/3 scoreless innings for the win, and Robb Nen worked a perfect ninth for his 33rd save.
Braves 5, Pirates 4
Pittsburgh Matt Franco drove in four runs with a homer and bases-loaded triple that broke a seventh-inning tie, as Atlanta withstood Pittsburgh's three-run rally in the ninth for the win.
The Braves, 24-8 against Pittsburgh since 1998, took a 1-0 lead on Franco's solo homer off Josh Fogg (11-10) to start the fourth.
Kevin Millwood (14-6) won for the 12th time in 13 decisions and John Smoltz got his major league-high 46th save.
Reds 5-0, Cardinals 4-5
Cincinnati Chuck Finley allowed only two singles by Juan Castro as he pitched his first shutout in four years, leading St. Louis to a doubleheader split with Cincinnati.
Scott Rolen hit a three-run homer in the first, and Finley took it from there as the NL Central leaders snapped a four-game losing streak. Finley (5-3) retired the first 16 batters before Castro lined a single to center.
In the first game, Rolen made an errant throw home, fueling a five-run second inning, and the Reds used five pitchers to close out the win. The split left the third-place Reds 7 1/2 games behind the Cardinals in the NL Central.
Mets 10, Marlins 5
Miami Mo Vaughn hit a three-run homer and John Thomson (8-11) earned his first victory with New York, pitching into the ninth inning to beat Florida. New York has won three in a row since losing 12 straight.
The game drew just 6,448 fans, by far the smallest crowd to see the Mets at Pro Player Stadium.
Phillies 4, Expos 2
Philadelphia Joe Roa pitched six strong innings and went 2-for-2 with his first two career RBIs as Philadelphia beat Montreal for its sixth straight victory.
The Phillies have won 10 of 13 to reach .500 for the first time since they were 5-5 on April 11. Roa (3-1) allowed two runs, six hits, walked two and struck out four to win his third straight start.
Padres 11, Astros 6
Houston Ryan Klesko hit his eighth career grand slam and matched his career high with six RBIs to lead San Diego past Houston.
Phil Nevin tied a career high with four hits and drove in two runs, including an RBI single in a seven-run seventh inning. Klesko's slam capped the big inning, giving him six RBIs in a game against Houston for the second time in his career.
Cubs 6, Brewers 2
Milwaukee Alan Benes pitched 513 shutout innings in his first major league start since last September, helping Chicago beat Milwaukee.
Benes, 30, had made just one major league start since 1997, beating Los Angeles 6-5 on Sept. 8 last year. He had been sidelined by a pair of shoulder operations. Against the Brewers, he allowed five hits and four walks, striking out six. He left after giving up two walks and a single in the sixth inning.
Dodgers 6, Diamondbacks 1
Los Angeles Eric Karros hit a three-run homer with two outs to cap a five-run eighth inning and Los Angeles defeated Arizona.
Paul Lo Duca's two-out single with the bases loaded against Miguel Batista (7-8) scored two runs and gave the Dodgers a 3-1 lead. Karros followed with his 10th homer on a 1-0 pitch from ex-Dodger Mike Fetters. Paul Shuey (4-2) got six outs for the victory.
Copyright 2018 The Associated Press. All rights reserved. This material may not be published, broadcast, rewritten or redistributed. We strive to uphold our values for every story published.