Princeton, N.J. — The last moments aboard Flight 93 were a blur of action and counteraction, according to a passenger's widow: Hijackers tried to cut off oxygen inside the plane while passengers and crew armed with pots of boiling water and a food cart tried to overpower them.
The account of the final moments of the ill-fated flight is included in a new book by Lisa Beamer, whose husband, Todd, is credited with helping lead the charge against the hijackers Sept. 11. The book was released Tuesday.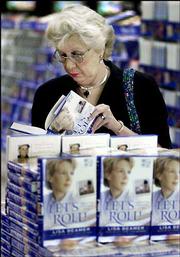 Beamer bases her account on what she heard from the plane's cockpit recorder and conversations passengers had with friends and loved ones on the ground.
Beamer said she could picture what had happened:
"Big men move quickly up a narrow aisle, accompanied perhaps by a flight attendant or two carrying coffeepots, spilling boiling water on themselves as they run," writes Beamer. "A food cart is used to ram the enemy."
Todd Beamer, a 32-year-old account manager for Oracle Corp., gained national attention when a cell phone operator reported that he said, "Let's roll!" during a rushed call before passengers are believed to have fought back.
It is believed the hijackers were trying to fly the plane to Washington, possibly to crash into the White House or the Capitol. Forty-four people were killed when the plane crashed in a field near Shanksville, Pa.
Lisa Beamer says in "Let's Roll! Ordinary People, Extraordinary Courage" that the plane's cockpit recorder reveals that flight attendants may also have thrown dishes to fend off the terrorists.
"The cockpit voice recorder contains sounds of dishes shattering and other objects being hurled. The hijackers are heard screaming at each other to hold the cockpit door.
"Someone cries out in English, 'Let's get them!' One of the hijackers frantically attempts to cut off oxygen in order to quell the passengers' fight. Another of the terrorists tells his cohorts, 'Take it easy.' Pounding sounds on the cockpit door ... a male passenger shouts ... More screaming! The plane begins to dive. The hijackers shout, 'Allah akbar!"'
Prosecutors and other law enforcement officials have not made the cockpit recording public, saying it could still be used as evidence. They also have never publicly confirmed whether they believe the passengers did in fact manage to thwart the hijackers or whether the plane crashed for some other reason.
Last month, a book by New York Times reporter Jere Longman gave some details about what happened in the plane before it crashed, including speculation that the passengers might have used a food cart to ram the hijackers.
Beamer also writes about the media attention she received in the aftermath of Sept. 11, including being singled out in a speech to the nation by President Bush.
She also chronicles her life with her husband, including how they met in college.
"From our first date, it was clear to me that Todd was a guy who had clear focus on life," writes the Cranbury resident. "I admired that he had a strong work ethic and a direction in life in which he wanted to go."
Beamer's book is not unusual for a widow trying to establish a legacy for fallen husband, say Michael Vorenberg, assistant professor of history at Brown University.
However, unlike widows memorializing soldiers of war, Vorenberg said, Beamer is writing about a private citizen before a war.
"Beamer's husband was a citizen who saved fellow Americans' lives at the expense of his own before a war had been declared," Vorenberg said. "That makes Beamer an unconditional war widow."
The book's release coincided with the launch of the Todd Beamer Foundation's Web site. The foundation, founded by Lisa Beamer and Todd's close friend, Doug MacMillan, has been established to help children facing family trauma.
Visitors to the Web site can buy Beamer's book or T-shirts and other items emblazoned with the words "Let's roll!"
Copyright 2018 The Associated Press. All rights reserved. This material may not be published, broadcast, rewritten or redistributed. We strive to uphold our values for every story published.