Montreal — Bartolo Colon and the Montreal Expos played like they were in a hurry to get out of town maybe for good.
Playing what may wind up being major league baseball's final game in Montreal, Colon pitched a two-hitter for his first NL shutout to lead the Expos over the San Diego Padres, 4-0, Monday.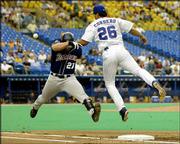 The game, played before 8,266, took just 1 hour, 55 minutes.
"I didn't realize I was working that fast," Colon said through an interpreter. "I just got into a groove and everything was working for me. I didn't have any plans to pitch fast."
Commissioner Bud Selig has plans for Montreal, though. He wants to eliminate two clubs before next season and the Expos, owned by the other 29 franchises, are one of the targeted teams.
The Expos, who joined the National League in 1969, start a nine-game trip at Colorado on Tuesday and are not scheduled to play at home until Aug. 30, the date players have set for their strike.
"It's late and they haven't got an agreement yet so some of the guys, especially the rookies, were taking pictures and getting bats signed," Expos shortstop Orlando Cabrera said. "I haven't done that. My hope is that we're going to keep playing and they make an agreement before that."
Colon (6-2) gave up just two hits, Deivi Cruz's single leading off the third and Bubba Trammell's single in the eighth. He struck out six and walked two in his major league-leading eighth complete game, his fourth in 10 starts with the Expos. Colon had two shutouts with Cleveland before he was traded to Montreal on June 27.
"He had better command than I thought," Padres manager Bruce Bochy said. "He pitches more than you would think. He didn't just try to blow it by everybody. He used his fastball well but he commanded it very well and we didn't have much going on at all."
Braves 7, Rockies 6
Atlanta Gary Sheffield and Chipper Jones hit back-to-back homers leading off the bottom of the ninth inning, rallying Atlanta.
Jones homered twice in the final two innings, starting the eighth with a drive into the seats that launched a three-run rally tying the game at 5.
The Rockies took a 6-5 lead when Greg Norton hit a two-out, run-scoring double off John Smoltz (3-2) in the top of the ninth.
But Colorado closer Jose Jimenez (2-8) needed only seven pitches to lose the game. Sheffield hit a 404-foot drive into the left-center bleachers for his 22nd homer, then Jones hit the game-winner, a 406-footer to right for his 19th homer.
Giants 3, Marlins 0
Miami Livan Hernandez pitched a five-hitter for his first victory since July 12, and slumping San Francisco mustered five hits. Hernandez (8-13) struck out eight and walked two. The right-hander had been 0-3 in six starts since shutting out Colorado 9-0. The Giants had lost four straight, matching a season high. They avoided their first four-game series sweep since July 4-7, 1996 at San Diego. Julian Tavarez (8-10) retired the first 14 batters before fading in the 86-degree sunshine. He allowed five hits and three runs in seven innings.
Astros 7, Reds 5
Cincinnati Lance Berkman hit a two-run homer and Wade Miller got his eighth straight win for Houston. Berkman's shot in the third off knuckleballer Jared Fernandez (1-3) completed a four-run third inning and extended his career-long success against the Reds. Miller (11-3) singled in a run as the Astros improved to 9-5 against the Reds this season.
Cardinals 7, Pirates 2
St. Louis Andy Benes kept his second-half comeback rolling, allowing two hits in seven scoreless innings for St. Louis. Albert Pujols drove in four runs for the Cardinals, who have won nine of 10 and lead the NL Central by five games over Houston. Pujols hit a three-run homer off Kip Wells (11-11) in the third inning, his 29th, after getting a sacrifice fly in the first. The Pirates have lost 10 of 13.
Copyright 2018 The Associated Press. All rights reserved. This material may not be published, broadcast, rewritten or redistributed. We strive to uphold our values for every story published.