Berlin — As Germans fought to keep rivers of putrid water out of their homes and the Hungarian capital of Budapest braced for flooding, European leaders on Sunday promised a common effort to fund rebuilding and cleanup expected to take years and cost about $20 billion.
The violent storms that swept across the continent two weeks ago have passed, but the ensuing floods continue to claim lives. German police confirmed another death Sunday, bringing the Europe-wide toll to at least 106.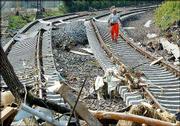 Meeting in Berlin, European Commission President Romano Prodi and the leaders of Germany, Austria, Czech Republic and Slovakia agreed on a plan to free "substantial sums" from European Union development funds and cheap loans.
While they gave few specific figures, the leaders also proposed the creation of a European disaster relief fund that could start by helping flood areas.
"What moved us all was the damage and the suffering of the people in the stricken countries, whether they are EU members or will only become members," Chancellor Gerhard Schroeder told a news conference.
Estimates from authorities and insurers suggest the total cost may exceed $20 billion. More than half of that falls on Germany, which faces its biggest relief effort since World War II. There is some concern it will break EU limits on government borrowing that protect the value of the euro currency.
The waters have receded in Austria, but authorities said it would be weeks before the full extent of the damage was known. However, the government has already delayed a package of tax cuts and scaled back a purchase of Eurofighter jets to save money.
Austria Chancellor Wolfgang Schuessel said his government would make $970 million immediately available to help flood victims. "We are going through the worst natural disaster of our generation," he said.
In the Czech capital, Prague, city leaders sealed off parts of the historic capital after an apartment building collapsed early Sunday in the low-lying Karlin district the third building to collapse in four days.
It was unclear how many more buildings' foundations had been softened, but Czech authorities said the overall damage in the country would likely exceed the $2 billion caused by milder floods five years ago.
With the Danube River hitting its all-time high around Budapest, authorities evacuated about 2,000 people in the area on Sunday. But the city was not expected to see the devastation that befell other countries.
The Danube reached a height of 28.2 feet Sunday in Budapest, just over the previous record set in 1965, and was expected to crest at 28.5 feet, at dawn today. The 33-foot-high walls running along the river banks throughout much of the city were expected to contain it.
The government raised its flood defense kitty to $13 million and postponed a fireworks ceremony scheduled for Aug. 20, or St. Stephen's Day, which commemorates the king who founded Hungary 1,000 years ago.
Copyright 2016 The Associated Press. All rights reserved. This material may not be published, broadcast, rewritten or redistributed. We strive to uphold our values for every story published.